One-pan spicy chicken and rice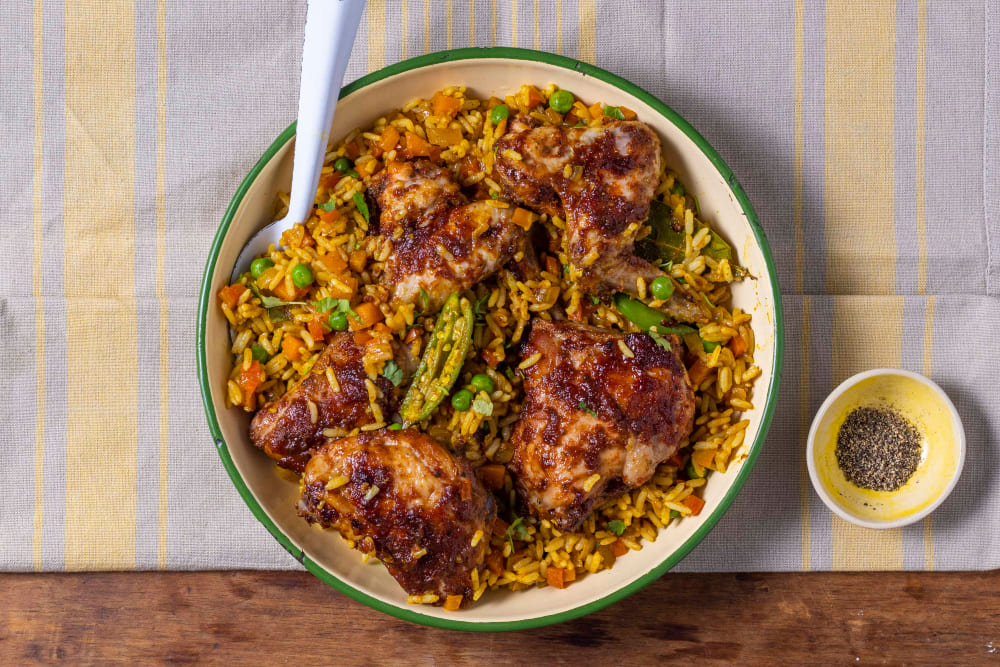 Prep time
15min

Cook time
15min

Serves
4
Make this one-pan meal by adding spicy chicken with leftover rice. Get your spicy chicken recipe here.
Ingredients:
1 onion, chopped
1 green chilli, halved lengthways
1 carrot, cubed
1 tsp (5 ml) turmeric
1 Tbsp (15 ml) curry powder
2 tsp (10 ml) paprika
1 red pepper, finely chopped
1 garlic clove, chopped
1 bay leaf
1 chicken stock cube
1 cup (250 ml) long-grain rice, cooked
160g peas
Spicy chicken, cooked – refer to the recipe
Method:
Heat oil in a saucepan over medium
Add onions and chilli to the pan and fry for 3 minutes or until the onions are
Stir in carrots, turmeric, curry, and paprika, and cook for 2 minutes while
Add red pepper, garlic, and bay
Crumble stock in the pot and add 250 ml water. Bring to a boil, reduce to a simmer, and cook for 5 minutes.
Fold in the cooked rice until well coated with the spices. Add peas and place cooked spicy chicken on top of the rice cover for 5 minutes or until chicken is warmed
Serve.