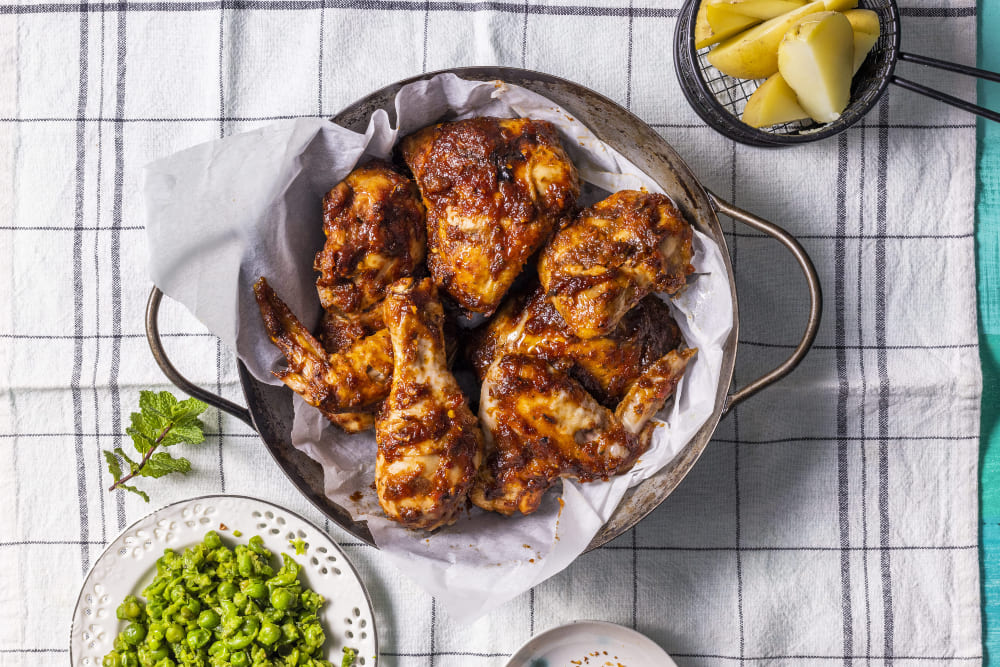 Prep time
1h:10min

Cook time
30min

Serves
4
Add more heat to the marinade if you can handle it, by adding more chilli powder.
Ingredients:
8 chicken portions
1 cup (250 ml) peas
3 sprigs mint leaves
¼ cup (60 ml) ranch dressing or mayonnaiseFor the marinade
1 cup (250 ml) tomato sauce
½ cup (125 ml) brown sugar
½ onion, chopped
½ red pepper, chopped
1 Tbsp (15 ml) chilli powder
2 Tbsp (30 ml) Worcestershire sauce
½ tsp (2.5ml) red chilli flakes
1 Tbsp (15 ml) dried mixed herbs Salt, to taste
Method:
Preheat the oven to 200°C.
Score chicken pieces making 2 small cuts on each.
Add all the marinade ingredients in a large bowl and stir until mixed.
Add the chicken pieces and toss to coat well with marinade. Cover with cling wrap and chill for 1 hour. Transfer the chicken to the baking pan and roast for 30 minutes or until
Roughly mash peas and mint leaves together. Stir in dressing or mayonnaise and season with
Serve spicy chicken with minty peas and roast potatoes if you want.