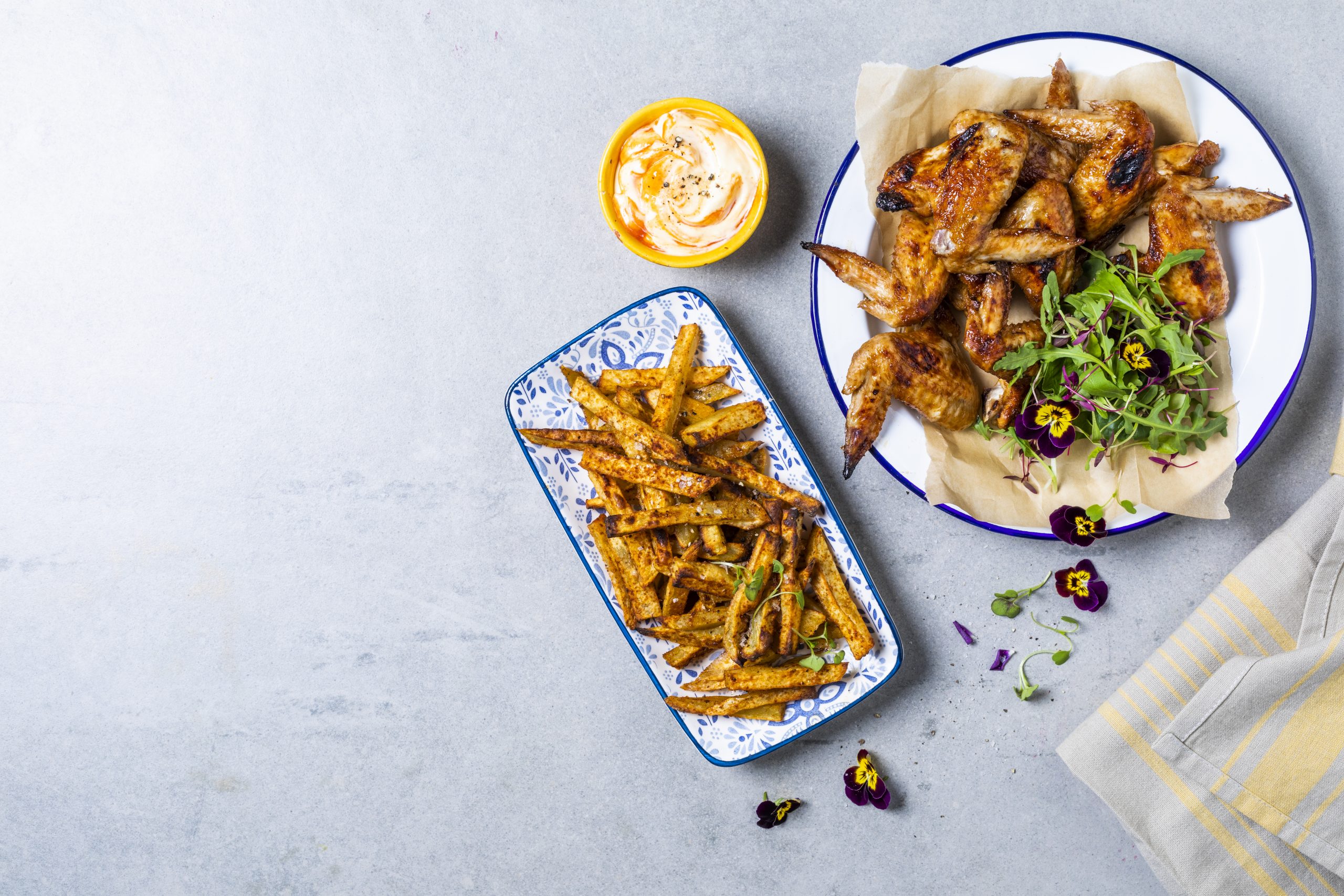 Prep time
20min

Cook time
50min

Serves
2
Didn't someone say 'hot, sticky wings'? Yes, please!
Ingredients:
Chicken:
8 x chicken wings
15ml canola oil
80ml maple syrup
15ml Dijon mustard
30ml Sriracha sauce
30ml balsamic vinegar
20ml soy sauce
5ml garlic powder
Salt and pepper
Sweet potato chips:
250g sweet potatoes
20ml canola oil
5ml corn starch
2.5ml smoked paprika
2.5ml garlic powder
salt and pepper
Method:
Chicken:
● Preheat the oven to 200°C.
● Mix the canola oil, maple syrup, Dijon mustard, Sriracha sauce, balsamic vinegar, soy sauce and garlic together. Season with a generous pinch of salt and pepper.
● Line an oven tray with foil and put the chicken wings onto it. Pour half the sauce over the wings, making sure they are evenly coated.
● Roast the wings for 40 minutes, then turn the heat up to 220°C. Add the remaining sauce and roast on high heat for 8 minutes.
Sweet potato chips:
● Line a baking tray with foil. Peel the sweet potatoes and cut them into even sized chips.
● Whisk together the canola oil, corn starch, smoked paprika and garlic powder in a bowl. Season with a generous pinch of salt and pepper. Pour the mixture over the chips and toss to coat them evenly.
● Spread the chips out evenly over the baking tray and put them in the oven at the same time as the chicken, at 200°C.
● Bake for 20 minute and then turn the potatoes over and bake for another 20 minutes.
Remove from the oven and serve hot with the sticky chicken wings.