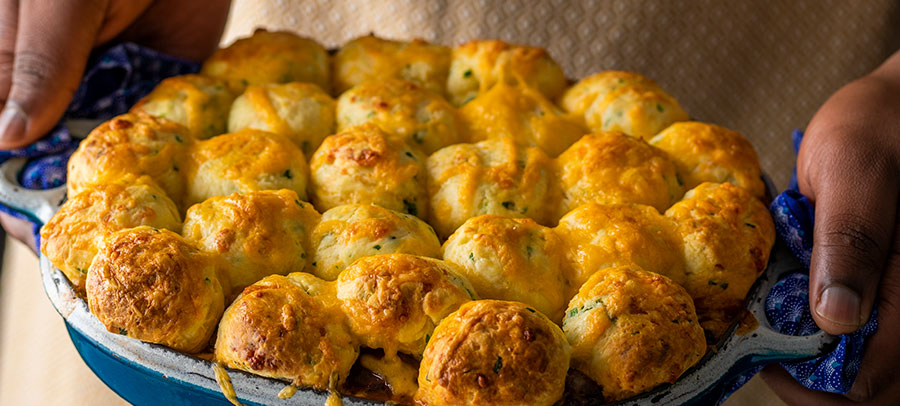 Prep time
1h:20min

Cook time
15min

Serves
8
Elevate homemade chicken pie from ho-hum to heavenly with this local-is-lekker recipe.
Ingredients:
250g chicken gizzards
2 tbsp (30ml) flour
2 tbsp (30ml) olive oil
250g bacon, sliced
2 onions, chopped
2 garlic cloves, sliced
1 tbsp (15ml) tomato paste
2 bay leaves
1 handful of parsley, chopped
3 cups (750ml) chicken stock
150g chicken hearts
250g chicken livers, chopped
Herb dumplings
2 cups (500ml) self-raising flour
80g butter, chopped
1 handful of parsley, chopped
60g cheddar cheese
⅔ cup (19 ml) milk
1 egg yolk, beaten
Method:
Preheat oven to 180˚C.
Heat oil in an oven-proof pan.
Toss gizzards in flour to coat and add to the hot pot to brown.
Add the bacon, onion and garlic and fry for 5 minutes. Stir through the chicken hearts, tomato paste, bay leave and parsley. Pour in the stock and bring to a boil.
Reduce heat and simmer for 1 hour. Add the chicken livers and set aside.
Meanwhile, to make the dumplings, place flour in a large bowl. Rub butter into the flour. Stir in the parsley and 40g cheese. Add milk. Knead until a dough forms. Roll mixture into golf-sized balls.
Place dumplings on top of the chicken. Brush with egg and sprinkle with remaining cheese. Bake for 15 minutes or until dumplings are golden.