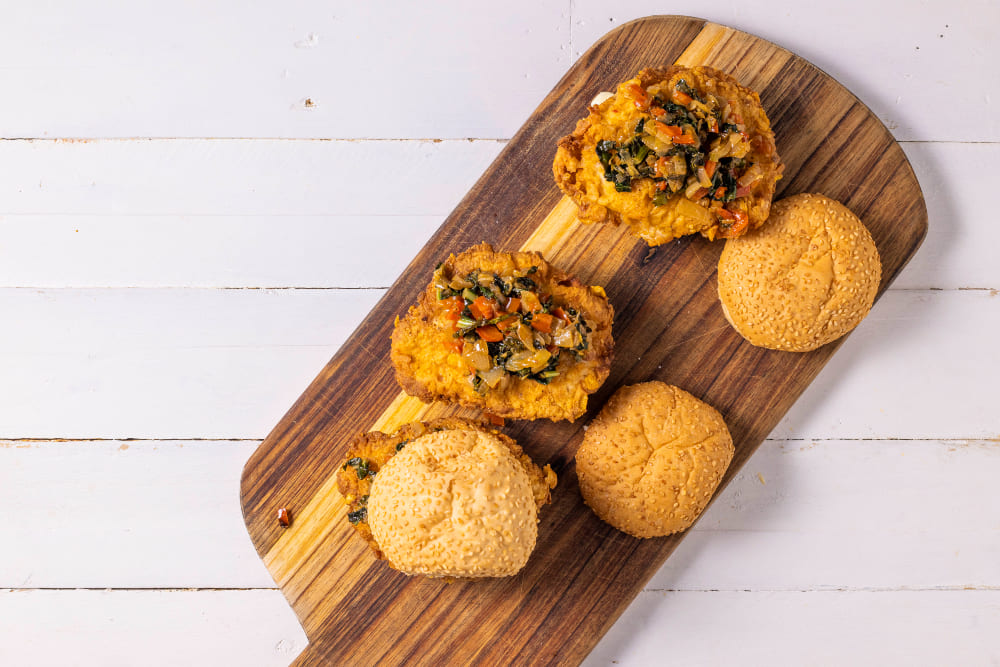 Prep time
5min

Cook time
—

Serves
4
You don't need to reserve burger night for Fridays only. Try these crispy schnitzel burgers any day of the week!
Ingredients:
4 chicken breast fillets

1 cup (250 ml) flour

2 Tbsp (30 ml) cayenne pepper

½ cup (125ml) cornflake cereal, crushed

Salt and pepper

⅔ cup (200ml) amasi

1 egg

½ cup (125 ml) chilli sauce

½ cup (125 ml) oil

4 burger rolls

2 Tbsp (30 ml) mayonnaise

4 Tbsp (60 ml) chopped lettuce or leftover greens from the chicken schnitzel meal 
Method:
Slice each chicken breast horizontally starting from the edge halfway open.
Place plastic wrap on top of the chicken and flatten it slightly using a rolling pin.
Mix flour, cayenne pepper, cornflakes, salt, and pepper in a shallow bowl.
Combine amasi, egg and chilli sauce in a separate shallow bowl.
Coat chicken breast in flour mixture on both sides. Dip in egg mixture covering well and then into flour mixture again. Set aside and do the rest of the chicken breasts.
Heat oil in a pan over medium-low heat. When oil is hot add coated chicken and cook in batches until golden brown on both sides. Drain on kitchen paper.
Slice the hamburger roll in half.
Spread mayonnaise on the bottom half and top with a chicken schnitzel each.
Add greens over the chicken.
Close filling with the top half of the burger roll. Serve.