Zesty chicken thighs with potatoes and spekboom salsa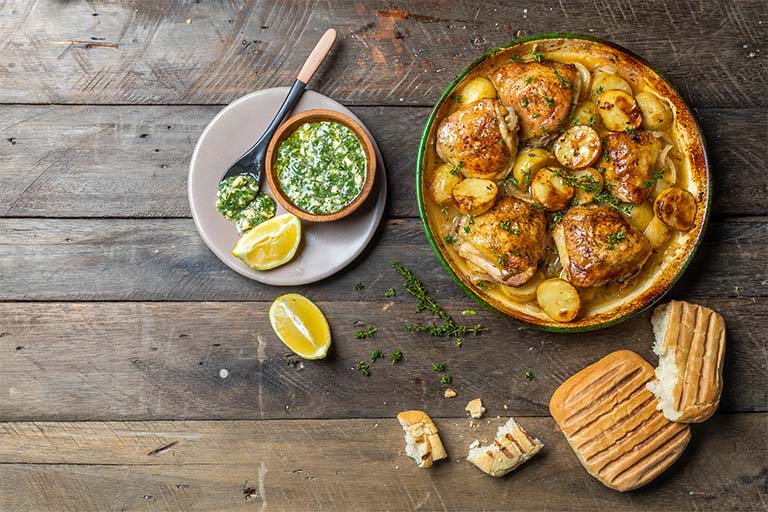 Prep time
15min

Cook time
60min

Serves
6
Never tried eating spekboom? The succulent's leaves pair beautifully with chicken.
Ingredients:
6 chicken thighs
600g baby potatoes, halved
1 onion, sliced
3 garlic cloves, sliced
4 sprigs thyme
250ml chicken stock
50ml lemon juice
10ml lemon zest
20ml honey
2.5ml salt
2.5ml pepper
Spekboom salsa:
25g spekboom, chopped and rinsed
15g parsley, chopped
20ml lemon juice
zest of 1 lemon
20g cashews, toasted and chopped
30ml olive oil
Method:
Preheat the oven to 190°
Put the baby potatoes in an oven tray, drizzle with olive oil, and par-roast.
Line another baking dish and place the chicken pieces in the baking tray. Arrange the par-roasted potatoes, onion, garlic and thyme around them.
Mix the chicken stock, lemon juice, zest, honey, salt and pepper. Pour over the chicken in the baking tray.
Place in the oven and roast for 1 hour, until cooked through.
Spekboom salsa:
Mix all the ingredients and season to taste.