Bbq chicken, tomato and avocado deep dish pizza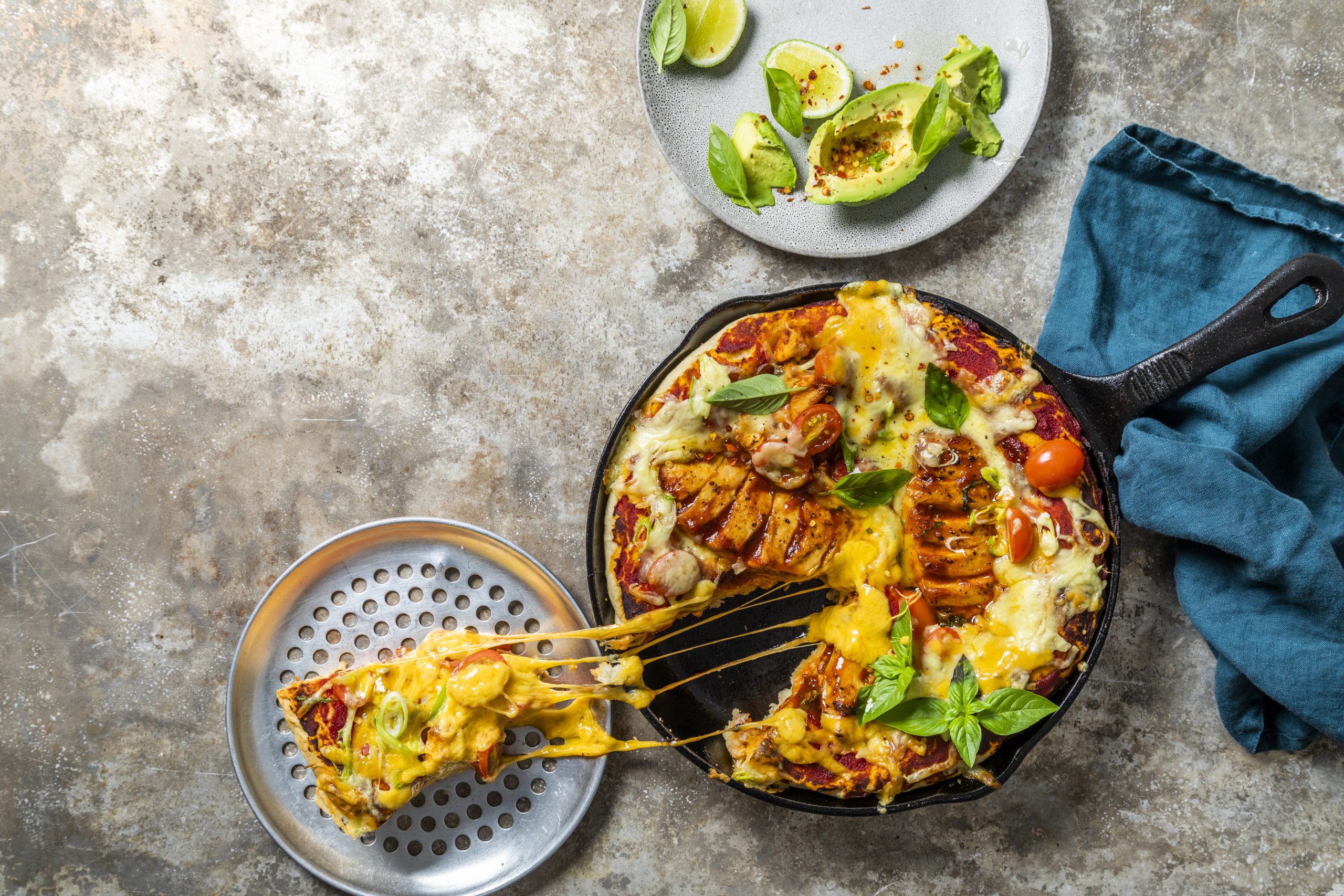 Prep time
1h

Cook time
30min

Serves
4
A delicious and light comfort meal for all those who love a thick pizza base.
Ingredients:
Dough:
2 cups flour
1 sachet of yeast
A pinch of salt
1 cup warm water
30ml  melted butter
Chicken:
3 x skinless chicken breasts, sliced
salt and pepper
30ml olive oil
½ cup bbq sauce
A handful of fresh basil, chopped (plus extra for serving)
30ml tomato paste
½ punnet of cocktail tomatoes
2 cups grated mozzarella or cheddar cheese
1 avocado, sliced
Method:
Dough:
● Preheat the oven to 180 °C.
● Combine the flour, yeast, and salt in a large bowl.
● Add the melted butter with water and mix to form a soft dough.
● Knead the dough for 5 minutes and place in an oiled bowl, cover with cling film and leave to rise for 1 hour.
Chicken:
Season chicken generously with salt and pepper.
Heat oil in a large pan and fry chicken for about 3-5 minutes.
Add the bbq sauce and basil, then stir to coat the chicken evenly.
Cook for a further 3-5 minutes or until cooked through and sticky. Set aside.
Assemble:
Place dough onto a floured surface.
Using your fingers, press dough into a greased 25cm cast iron skillet or an ovenproof dish.
Cover the base with tomato paste and top with the chicken mixture.
Bake for 15-20 minutes before you remove it from the oven.
Sprinkle th pizza with tomatoes and cheese and bake for another 10-12 minutes or until cooked through and the cheese has melted.
Top off your dish with avocado and fresh basil just before you serve this tasty delight!
Cook's note: Roll out the pizza dough and bake on a baking tray if you don't have a cast-iron skillet.