THE ULTIMATE GRILLED CHICKEN PICNIC SANDWICH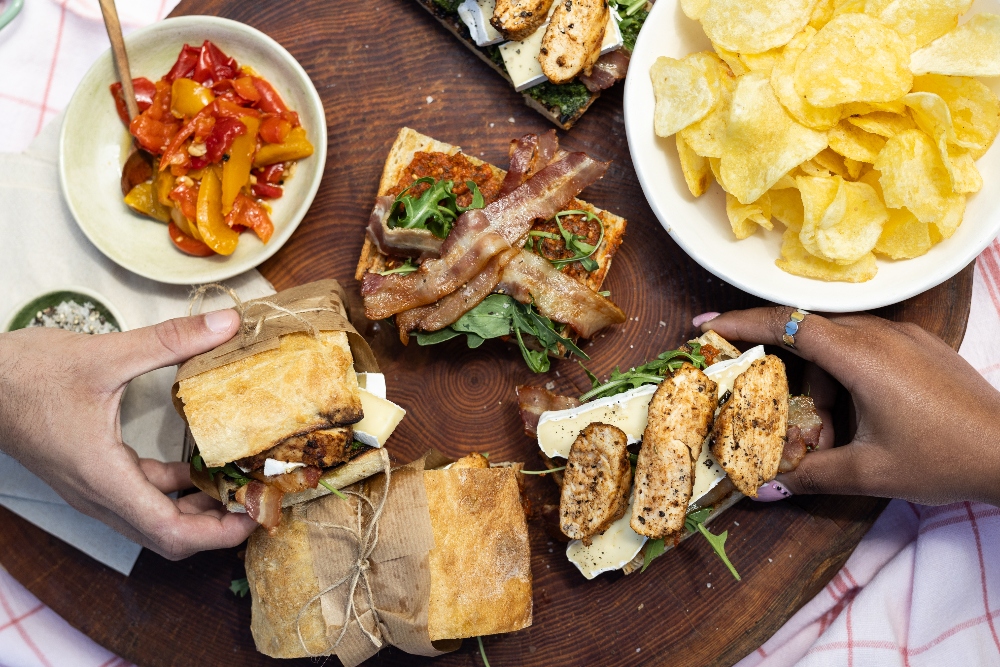 Prep time
20min

Cook time
20min

Serves
4
We bet you've had a chicken sandwich at a picnic before, but certainly not like this. Try our ultimate version of this picnic classic!
Ingredients:
1 x County Fair Chicken Breast Fillets (4pcs)
2 Tbsp (30ml) olive oil
4 tsp (20ml) BBQ spice
2 tsp (10ml) paprika
Salt and pepper
1 packet of streaky bacon
1 large ciabatta
1 jar of pesto
40g rocket
1 round of brie cheese, sliced
1 packet of lightly salted hand-cut crisps
Method:
Mix olive oil, BBQ spice, paprika, salt and pepper in a large bowl.
Add the chicken and mix well until coated evenly.
Preheat the oven to 180°C.
Heat a griddle pan until hot.
Slice the ciabatta into 4 and then cut in half.
Brush each half with olive oil and place onto the grill.
Toast and watch closely so that they don't burn. Remove and cool.
Add chicken breasts to the griddle pan and cook, turning occasionally, until lightly charred. Place the charred chicken breast fillets on a baking tray and bake in the oven for about 20 minutes or until cooked. Set aside to cool slightly.
Turn the oven to grill and cook the streaky bacon until perfectly crisp. Allow to cool.
To assemble, add a generous amount of pesto and top with rocket, brie, bacon and chicken.
Serve with the crisps.