Grilled chicken with raspberry-balsamic glaze
and crushed baby potatoes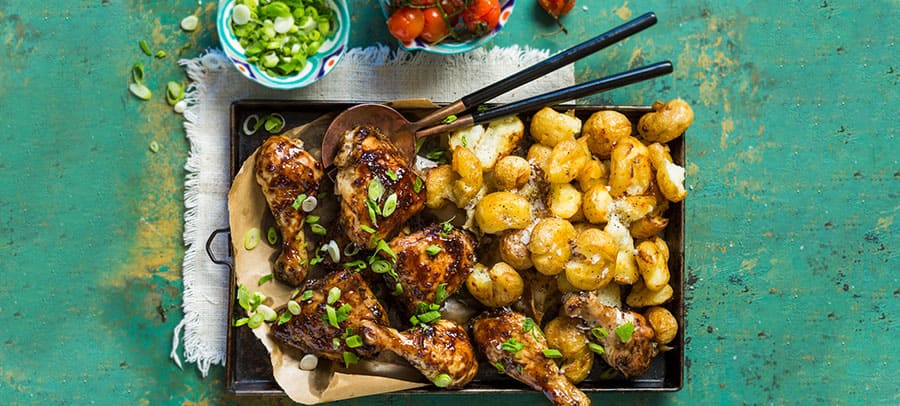 Prep time
15min

Cook time
45min

Serves
4
A glaze made with jam and orange liqueur makes for a showstopping dish that bursts with memorable flavours.
Ingredients:
3 tbsp onion salt
1 tsp black pepper
1 tsp dried basil
½ tsp dried thyme
1 x pack of chicken thighs and legs
Baby potatoes
Glaze
1 cup raspberry jam
¼ cup balsamic vinegar
1 tsp orange liqueur or fresh orange juice
Salt and pepper
Method:
Preheat the oven to 200°C.
Mix the onion salt, black pepper, dried basil and dried thyme in a small bowl. Season the chicken with the rub and set aside.
To make the glaze, mix the raspberry jam, balsamic vinegar, orange liqueur (or orange juice), salt and pepper in a saucepan. Cook over medium heat for about 10 minutes, whisking continuously.
Grill the chicken, skin side down, in a nonstick ovenproof pan over medium heat. Turn chicken skin side up and put it into the preheated oven. Glaze the chicken regularly and let it cook for about 30 to 45 minutes until sticky.
Parboil the baby potatoes. Put them onto a baking tray and crush each one lightly. Season with salt and pepper, and finish with a drizzle of olive oil. Roast for about 30 minutes or until golden brown and crispy.
Serve the chicken and potatoes.