Pretzel-crumbed chicken drumsticks
with apricot-mustard mayo and salad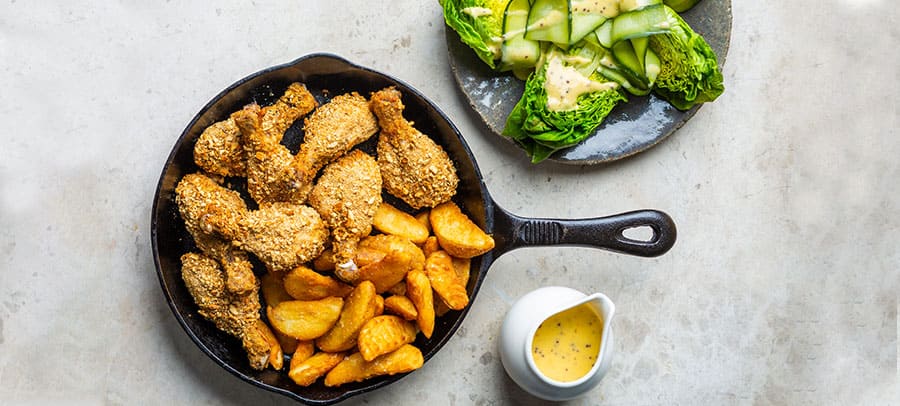 Prep time
20min

Cook time
50min

Serves
4
Who said pretzels are only good for snacking? Use them to coat chicken drumsticks. Delicious!
Ingredients:
8 drumsticks, skinned
280g pretzel pieces
1 tsp ground cumin
2 eggs, lightly beaten
Nonstick cooking spray
1/2 a bag of pre-cut potato wedges
Mayonnaise
1/4 cup apricot jam
1/8 cup grainy mustard
1/3 cup mayonnaise
Salad
2 gem lettuces, cut in halves
1 avocado
1/4 cucumber, cut into ribbons
Caesar dressing
Thyme, for garnish
Method:
Preheat oven to 200°C.
Put the pretzels in a resealable plastic bag and crush them using a rolling pin. Add the cumin and shake to mix.
Pour the beaten eggs into a shallow dish. Dip the drumsticks, one at a time, into the eggs. Let the excess drip off, add the drumsticks to the bag with the crushed pretzels and shake gently to coat.
Coat a roasting rack with nonstick cooking spray and place over a foil-lined baking pan. Put the chicken onto the roasting rack and bake for 40 to 50 minutes, until golden brown and juices run clear.
Cook the wedges according to the packaging instructions. Mix the apricot jam, mustard and mayonnaise together in a small bowl. Put the lettuce, avocado, and cucumber onto a platter and drizzle over the Caesar dressing.
Serve the chicken, garnished with thyme, with the wedges, mayonnaise and salad.