CHEESY PAP AND ATCHAR GIZZARDS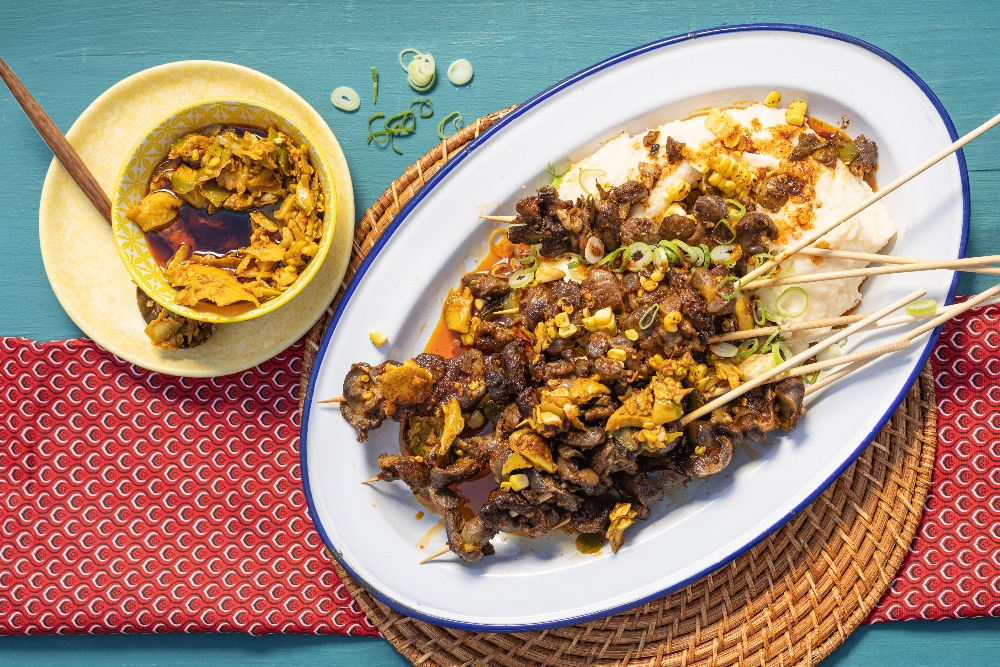 Prep time
1h:15min

Cook time
30min

Serves
7
A new cheesy twist on your classic braai-pap dish, easy as 1-2-3.
Ingredients:
1 kg chicken gizzards, cleaned and washed
Water to cover
1 bottle (385g) Mango Atchar
2 Tbsp (30 ml) apricot jam
1 tsp (5 ml) garlic
For the pap:
2 cups (500 ml) whole milk
2 cups (500 ml) water
1 ½ tsp (7 ml) salt
1 cup (250 ml) mielie meal or yellow cornmeal
4 Tbsp (60 ml) salted butter
½ tsp (3 ml) freshly ground black pepper
100 g cheddar cheese, grated
2 sweet corn cobs, blanched, charred and cut from the cob
Method:
First, boil the gizzards in enough water to cover them until slightly soft for about 30 minutes once cooked, set the gizzards aside to cool.
For the marinade, blend half the atchar with the apricot jam and garlic
Mix in the cooked gizzards and allow them to soak in the marinade for about 30 minutes.
In the meantime, prepare your braai.
Soak kebab skewers in enough water to cover them.
Thread 7-8 gizzards onto a skewer
Braai the gizzards until just charred - basting with the remaining marinade as you go—season with salt and pepper.
Serve with cheesy pap, charred corn and extra atchar.
For the pap:
Combine milk, 1 cup water and salt in a large pot over medium heat and bring to a boil.
Gradually whisk the remaining cold water and mielie meal and then whisk into the simmering milk and water - be careful as the pap starts to spit quickly.
Cover the pot and simmer over low heat for about 20 minutes until creamy, stirring every 5 minutes to prevent the bottom from burning.
Remove the pot from heat and stir in the grated cheese until melted.
Serve the gizzards on top of the mielie meal and garnish using charred corn pieces and atchar.