ROAST CHICKEN DRUMSTICKS WITH GARLIC & ONION CAULIFLOWER RICE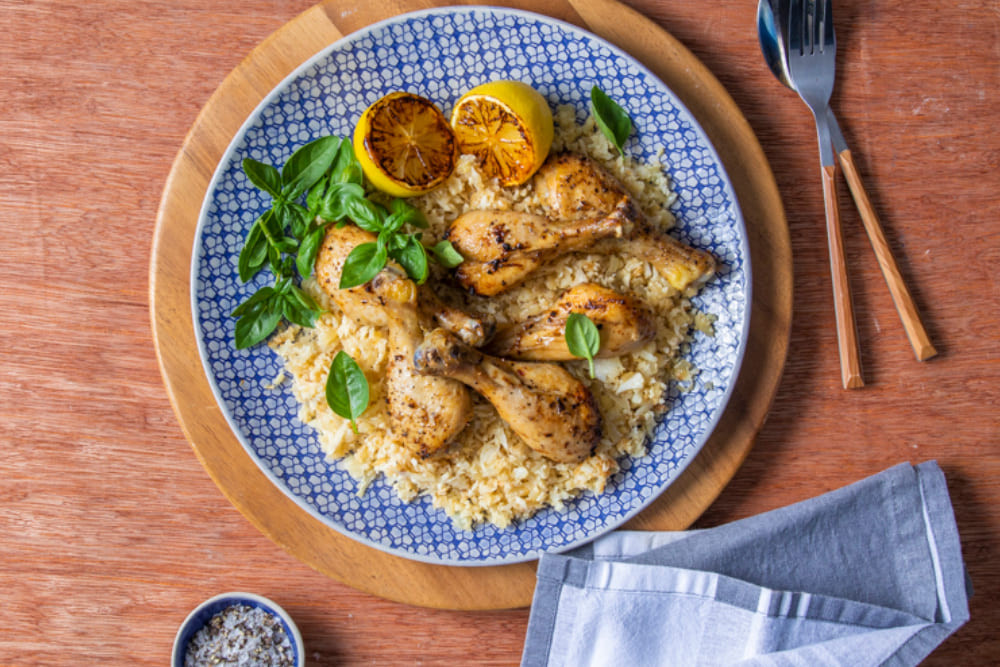 Prep time
30min

Cook time
45min

Serves
4
A new way to prepare a firm family-favourite.
Ingredients:
For the chicken:
1 x County Fair Chicken Drumsticks pack
2 cloves garlic, minced
¼ cup (60ml) lemon juice & 1 tsp (5ml) lemon zest
For the cauliflower:
1 large cauliflower head, grated
2 onions, finely chopped
4 cloves garlic, finely chopped
2 Tbsp (30ml) lemon juice
1 tsp (5ml) lemon zest
Olive oil
Salt and milled black pepper
Method:
Preheat the oven to 180°C.
Mix the garlic, lemon juice and zest in a bowl with a pinch of salt and pepper and 2 Tbsp of olive oil.
Place the drumsticks in an oven tray. Add marinade and toss to coat.
Roast for 45 minutes or until cooked through and golden.
Meanwhile, make the cauliflower rice; heat 3 Tbsp olive oil over medium-low heat. Add the onion and garlic, season with salt and pepper, and sauté for 8-10 minutes, stirring often. Ensure the garlic and onion do not burn.
Add cauliflower to the onion and garlic mix. Sauté for 7 minutes.
Remove from the heat and season to taste with lemon juice and zest
Serve the chicken drumsticks with warm cauliflower rice.