Chicken sosaties with dried apricots and onions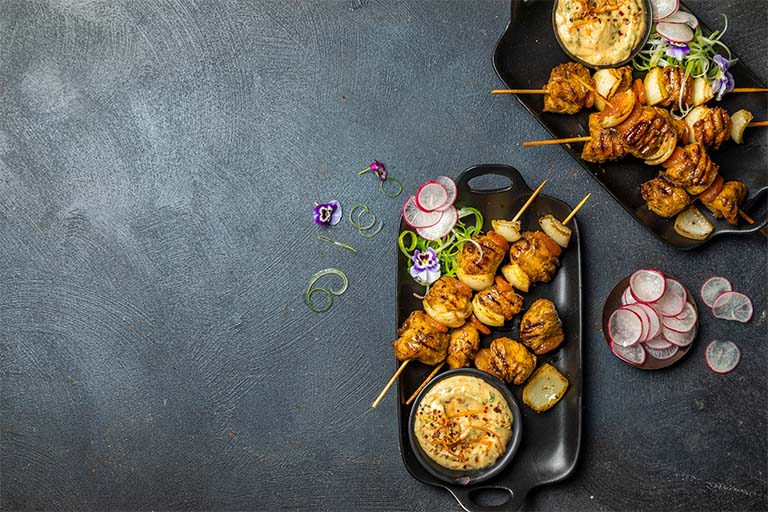 Prep time
30min

Cook time
15min

Serves
4
When it comes to sosaties, you can't beat the classic combo of chicken, apricots and onions.
Ingredients:
Sosaties:
4 chicken breasts
20ml olive oil
30ml brown sugar
15ml masala curry powder
5ml cinnamon
5ml ground coriander
5ml ground cumin
5ml garlic powder
12 dried apricot halves
2 onions, cut into chunks (same size as the apricot pieces)
salt and pepper
Apricot-chutney yoghurt dressing:
½ cup plain yoghurt
½ cup apricot chutney
5ml masala curry powder
2,5ml orange zest
15g chopped coriander
salt and pepper
Method:
Sosaties:
Slice the chicken breasts into even cubes (approximately 6 pieces per breast) and place in a bowl.
Mix the olive oil, sugar, masala curry powder, cinnamon, coriander, cumin, garlic powder, salt and pepper.
Rub into the chicken pieces and leave to marinate overnight.
Leave the bamboo sticks to soak in water overnight.
Evenly arrange the chicken, apricots and onion pieces onto the bamboo sticks.
Braai the sosaties until they're caramelised and cooked through.
Apricot-chutney yoghurt dressing:
Mix all the ingredients together and season with salt and pepper.