West African spicy chicken wings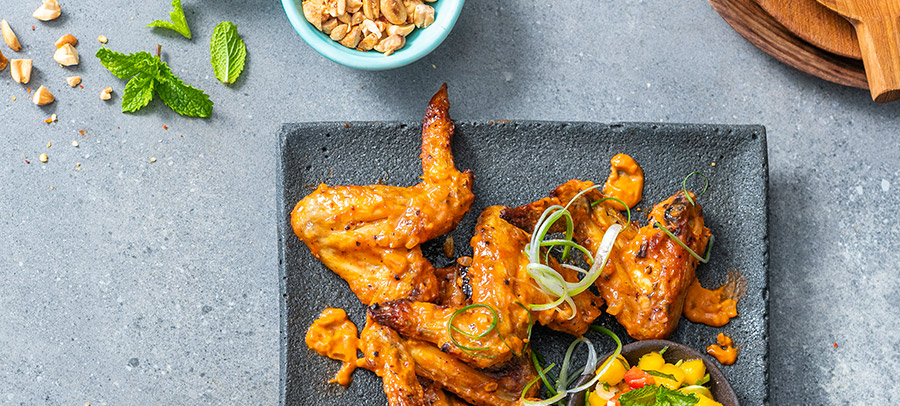 Prep time
30min

Cook time
35min

Serves
2
West African cuisine has never been trendier! These super-tasty chicken wings go down a treat.
Ingredients:
12 chicken wings
2 tbsp vegetable oil
1 large onion, chopped
4 garlic cloves, crushed
1 tsp smoked chilli flakes
60ml tomato paste
½ cup smooth peanut butter
150ml chicken stock plus 1 cup water
2 tsp fish sauce
zest of 2 small limes
2 tbsp lime juice
salt and pepper
salted peanuts, chopped and toasted
Salsa
1 large mango, peeled and chopped
60ml spring onion, chopped
2 tbsp red pepper, chopped
zest of 1 lime
1 tbsp lime juice
1 tsp honey
mint, chopped
Method:
Preheat the oven to 200°C.
Season the chicken wings with salt and pepper, place on a roasting tray and drizzle with 1 tbsp vegetable oil. Bake in the oven until golden brown and crispy.
Make the dipping sauce by heating the rest of the oil in a saucepan on medium heat.
Add the onion, garlic and chilli. Cook for a few minutes until the onion becomes soft and starts to caramelise.
Add the tomato paste, peanut butter and stock. Simmer until the sauce thickens.
Add the fish sauce, lime zest and juice. Taste to adjust the seasoning.
Toss one third of the sauce with the crispy, cooked chicken wings. Set aside and keep warm.
Mix together all the salsa ingredients. Add salt and pepper to taste.
Serve the wings with the extra sauce and salsa, sprinkle with chopped, toasted peanuts and garnish with fresh mint.