THAI COCONUT POACHED CHICKEN SALAD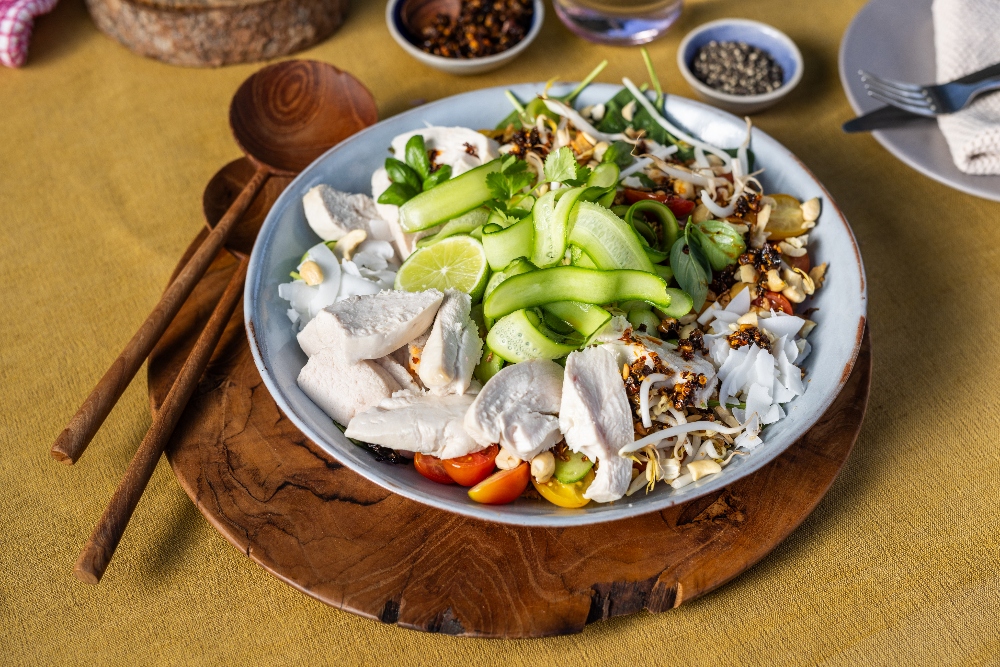 Prep time
20min

Cook time
15min

Serves
4
Fresh, light and simple – a chicken salad made for summer!
Ingredients:
2 x 400ml cans coconut milk
½ cup (125ml) water
Large packet of fresh coriander
1 lime, sliced, plus extra wedges to serve
1 tsp (5ml) fish sauce
1 tsp (5ml) coarse salt
1 x County Fair Chicken Breast Fillets (4pcs)
½ cup (125ml) coconut flakes
2 cups (500ml) baby spinach leaves
50 g basil
2 baby cucumbers, peeled into ribbons
50 g Sprouts
Handful of mixed tomatoes, halved
Toasted cashews, chopped for garnish
Crispy onions for garnish
Chilli crunch for garnish
Coriander leaves for garnish
Method:
Place the coconut milk, water, coriander, lime, fish sauce and salt in a large pot over high heat and bring to a boil.
Add the chicken, reduce the heat to low and cook covered for about 15 minutes or until cooked through.
Remove chicken from the pot and allow to cool.
Strain and reserve ½ cup of the poaching liquid and allow to cool.
Place shredded coconut in a bowl, cover with boiling water and soak for 5 minutes, then drain off the water.
Place spinach, basil, cucumber, sprouts, mixed tomatoes and coconut in a bowl and toss with poaching liquid.
Slice the chicken and place on top of the salad.
Garnish with toasted cashews, crispy onions, chilli crunch, coriander and a wedge of lime.
Serve.