Chicken nugget bao buns
with pickled cucumber, radish, spicy mayo and coriander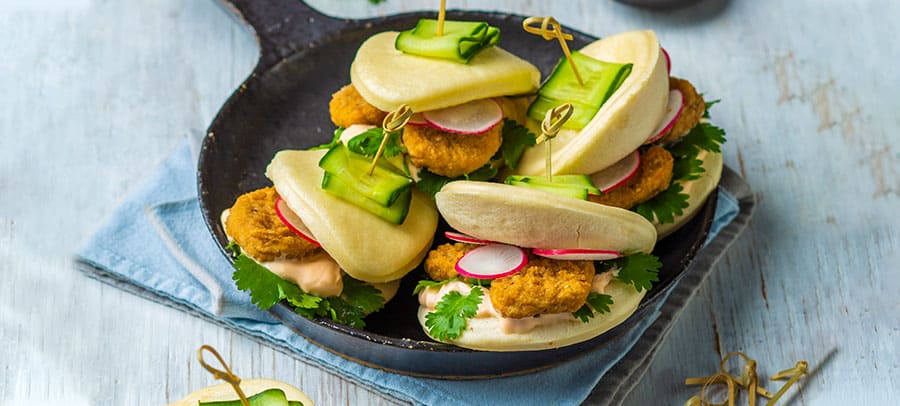 Prep time
20min

Cook time
20min

Serves
4
If your family loves our chicken nuggets, this easy, 40-minute recipe is a must-try. Don't expect leftovers!
Ingredients:
16 chicken nuggets
Spicy mayonnaise
1/2 cup mayonnaise
1 tsp Sriracha sauce
Pickled cucumber
1 cup water
1/3 cup vinegar (apple cider or white)
3 tbsp sugar
Bao-bun filling
8 frozen bao buns
10g coriander leaves picked off whole
Small handful of radish, finely sliced
Method:
Cook the chicken nuggets according to the packaging instructions. Mix the mayonnaise and Sriracha sauce in a bowl and side aside until serving.
To make the pickled cucumber, peel the cucumbers into ribbons. De-gorge the ribbons by putting them into a colander over a bowl with a generous sprinkle of salt to draw out the water from the cucumber. Leave for 15 minutes.
Mix the water, vinegar, sugar and salt in a small bowl. Stir until the sugar has dissolved. Add the cucumber, making sure it is all covered in the brine, and let it rest in the fridge until you are ready to serve.
Cut out small squares of grease-proof paper to go under each bao bun. Steam the bao buns in a vegetable steamer on the hob. Add a little water to the base pan and then place the bao buns onto the steaming rack above with a fitted lid. Steam for about 7 minutes.
To assemble the buns, add the mayonnaise to the bottom bun and top with coriander leaves, chicken nuggets and radish. Use a cocktail stick to spear the top of the bun with a folded pickled cucumber ribbon.