Chakalaka-baked chicken drumsticks with basmati rice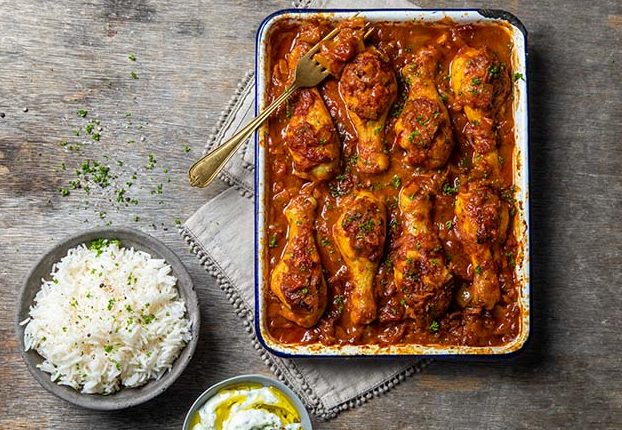 Prep time
15min

Cook time
60min

Serves
6
South African cuisine meets Indian flavours in this family-friendly recipe.
Ingredients:
Chicken:
8 chicken drumsticks
15ml olive oil
1 onion
2 garlic cloves, sliced
15ml curry powder
1 x 410g tin spicy chakalaka
1 x 410g tin chopped tomatoes
30ml chutney (Mrs Balls)
salt and pepper
Yoghurt dressing:
2 cups full-fat yoghurt
20ml lemon juice
2.5ml lemon zest
30g coriander, finely chopped
salt and pepper
4 cups steamed basmati rice fresh coriander
Method:
Preheat the oven to 180°
Heat the oil on the stovetop in an oven-friendly dish and fry the chicken pieces until they have nice colour.
Remove the chicken from the dish, and then add the onions and garlic. Fry over a medium heat for about 5 minutes.
Add the salt, pepper and curry powder, fry for a further 2 minutes.
Add the chicken back into the dish.
Combine the chakalaka, tinned tomatoes, and chutney, and pour over the chicken.
Place the dish in the oven and bake for 45 minutes until cooked through.
Combine all the yoghurt dressing ingredients and season to taste.
To serve:
Serve the chicken with steamed basmati rice.
Dollop the yoghurt dressing over the chicken and serve with fresh coriander.