Chakalaka braised chicken feet and dombolo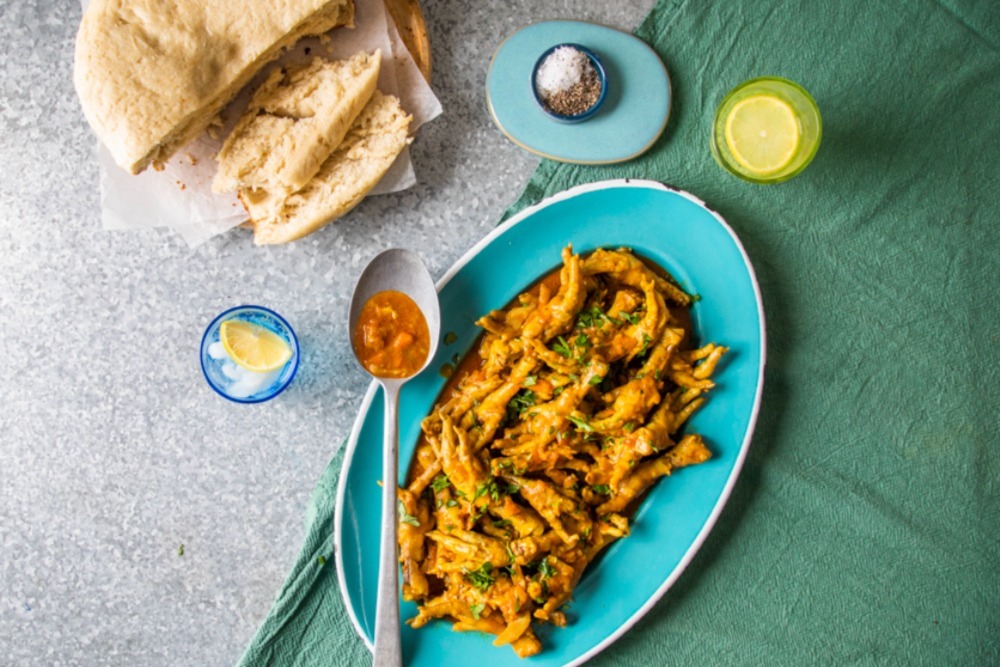 Prep time
30min

Cook time
1h:40min

Serves
6
The addition of chakalaka creates a moreish sauce, perfect for scooping up with freshly made dombolo.
Ingredients:
2 Tbsp (30ml) oil
1 onion, sliced
1 Tbsp (15ml) curry powder
1 kg Goldi Chicken Feet
2 cups (500ml) water
1 tsp (5ml) salt
1 can (400g) chakalaka
1 lemon, juiced
For the dombolo:
5 cups (625g) white bread flour
1 tsp (5ml) salt
1 Tbsp (15ml) sugar
1 x 10g pack instant dry yeast
1 ½ cups (375ml) lukewarm water (body temperature)
¼ cup (60ml) oil
Method:
Saute the onions for 3 minutes, then add the curry powder and fry for a minute more.
Add chicken feet, water and salt and simmer for about 30 minutes until the liquid is almost cooked out.
Add the chakalaka and all the sauce from the can,  and cook for 10 minutes.
Prepare the dombolo: Mix dry ingredients.
Make a well in the centre of the flour and mix; add lukewarm water and oil.
Slowly incorporate the water by mixing the flour into the liquid.
Once combined, turn out to a floured surface and knead for 10 minutes.
The dough should be smooth.
Place dough in a greased bowl, cover and set aside in a warm spot until doubled in size, about 30 minutes.
Knead again and place into a greased metal bowl.
Pour water into a saucepan to come up to one-third, and bring to a boil.
Immerse the dish with the dough into the saucepan, cover and cook for 60 minutes on a gentle simmer. Replenish water if needed. Serve chakalaka chicken feet with dombolo.