Sweet and spicy Hawaiian drumsticks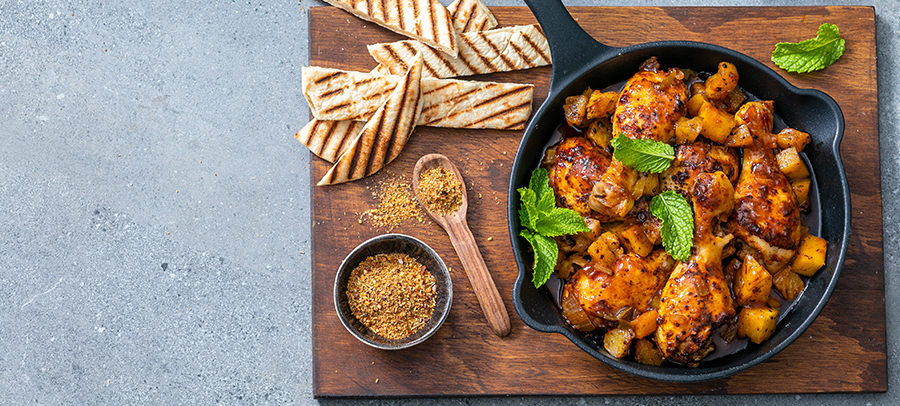 Prep time
20min

Cook time
30min

Serves
4
Chicken and pineapple are the perfect combo – and not just on Hawaiian pizza!
Ingredients:
Ingredients
12 chicken drumsticks
30ml sunflower oil
1 small pineapple, peeled and cubed
Spice rub:
10ml chicken stock powder
5ml smoked paprika
5ml barbeque spice
5ml dried oregano
5ml chilli flakes
salt and pepper
Sauce:
2 small onions, chopped
1 small green pepper, chopped
10ml fresh ginger, grated
400ml pineapple juice
15ml honey
30ml dark soy sauce
15ml sriracha sauce
flatleaf parsley and mint, chopped
Method:
Preheat the oven to 180°C.
Combine all the ingredients for the spice rub and season the chicken well.
Heat most of the oil in an ovenproof casserole and brown the chicken pieces on both sides.
Remove the chicken from the casserole and set aside.
Add the pineapple to the same pan and cook until caramelized. Remove.
Add the rest of the oil and cook the onion for a few minutes. Add the chopped green pepper and the ginger and cook for another 2 minutes on medium heat. Season.
Add the pineapple juice, honey, soy sauce and the sriracha and let it simmer for about 2 minutes. Add more of the spice rub to taste.
Return the chicken and the pineapple to the casserole. Bake in the oven for about 35 minutes until the chicken is cooked through and golden brown and the sauce has thickened.
Sprinkle with the parsley and mint and serve with flatbreads for a delicious meal.