Slow-cooker chicken Diane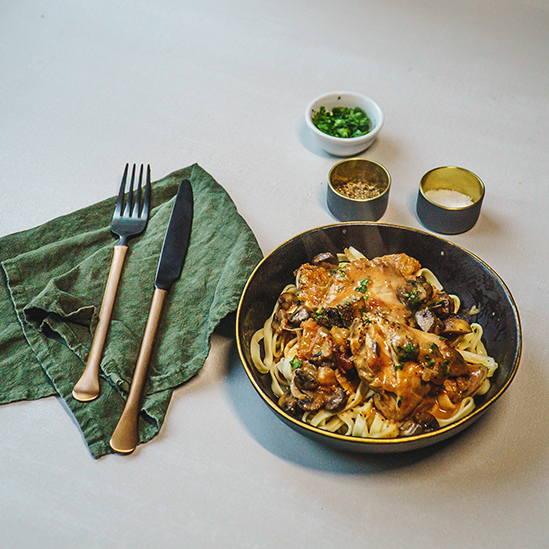 Prep time
30min

Cook time
4h

Serves
4
This recipe transforms a handful of ingredients into the ultimate winter indulgence.
Ingredients:
6-8 bone-in, skin-on chicken thighs
2 tsp olive oil
1 brown onion, finely chopped
2 tbsp corn flour
125ml chicken stock
1 can chopped tomatoes
2 tbsp Worcestershire sauce
2 tbsp Dijon mustard 2 garlic cloves, finely chopped
250ml pouring cream
200g button mushrooms, thickly sliced 1 tbsp thyme
1 packet fresh egg fettuccine
1 tbsp parsley, chopped to serve
salt and pepper
Method:
Heat the olive oil in a large pan over high heat.
Season the chicken thighs on both sides with salt and pepper.
Place the chicken thighs skin-side down in the pan and fry for 4- 5 minutes on each side until deep golden brown.
Add the onions to the pan and cook for 5 minutes or until softened.
Meanwhile, place the corn flour in a large jug and gradually whisk in the stock, chopped tomatoes, Worcestershire sauce, and mustard.
Add the jug contents and garlic to the slow cooker. Cover and cook on low for 3½ hours.
Fry the mushrooms with thyme and add them to the pot with the cream. Cook for a further 20 minutes.
Serve with your fresh egg fettuccine and sprinkle with parsley to serve.