Stuffed peppadew and feta chicken breasts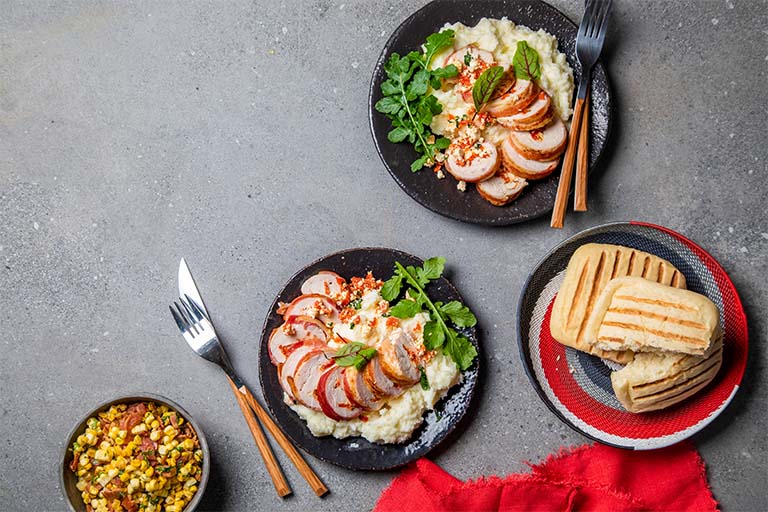 Prep time
60min

Cook time
45min

Serves
4
This dreamy combo of chicken, pap and corn-and-bacon salsa is a must-try.
Ingredients:
Chicken:
4 chicken breasts
12 slices streaky bacon
80g peppadews, roughly chopped
180g feta cheese, mashed
10g parsley, roughly chopped
pepper
Creamy pap:
1 litre water
15ml salt
350ml maize meal
200ml cream
30g butter
Corn and bacon salsa:
150g bacon, finely chopped
2 corn cobs, kernels cut off
15g parsley, sliced
zest of 1 lemon
Method:
Chicken:
Preheat the oven to 190°
Mix the peppadews, feta, parsley and pepper together.
Place the chicken breasts between two layers of clingwrap. Using a rolling pin, bat them out gently until they're slightly thinner and even.
Place a chicken breast on a chopping board, spread a quarter of the peppadew mix over it and roll the chicken into a sausage shape.
Repeat with each chicken breast and season with salt and pepper.
Wrap each chicken breast with three pieces of bacon, securing it together with toothpicks.
Place the wrapped chicken breasts on a lined oven tray.
Bake the breasts at 190°C for 15 minutes. Turn the oven temperature down to 180°C for a further 30 minutes and cook the chicken until done.
Creamy pap:
Bring the water and salt to the boil.
Slowly add the maize meal, whisking continuously.
Once it's all combined and there are no lumps, put the lid on the pot and turn the heat down. Allow to cook for 10– 15minutes.
Stir in the cream and butter, and season to taste.
Corn-and-bacon salsa:
Fry the chopped bacon in a pan over a medium heat. Add the corn two minutes before the bacon is ready.
Stir through the chopped parsley and lemon zest.
To serve:
Serve the creamy pap on a plate, topped with sliced rounds of chicken and salsa.