Bacon-wrapped chipotle wings
with maple-bourbon glaze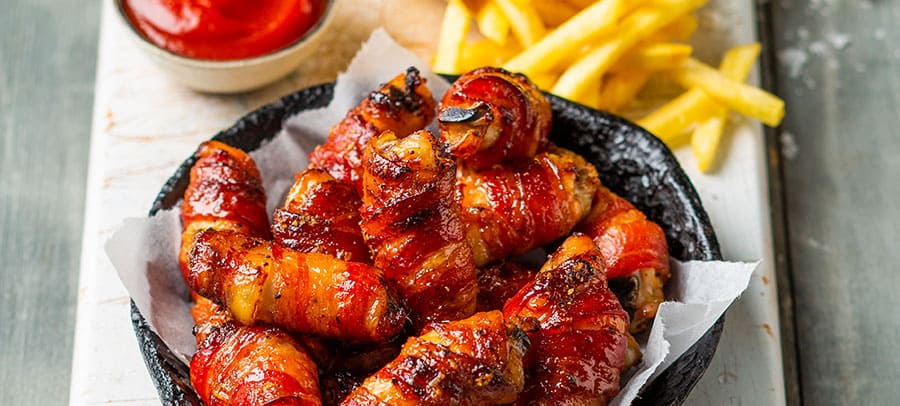 Prep time
20min

Cook time
40min

Serves
2
These tasty little morsels make for impressive dinner-party snacks.
Ingredients:
¼ teaspoon freshly cracked pepper
12 chicken wings, separated into drumlets and wings
12 slices bacon, cut in half lengthwise
Glaze
1 clove garlic, finely minced
¼ cup bourbon whisky
¼ cup maple syrup
3 tbsp freshly squeezed orange juice
½ tablespoon smoked paprika
Pinch of sea salt
Pinch of black pepper
French fries
Method:
Preheat the oven to 180°C.
Sprinkle the black pepper over the wings. Wrap a strip of bacon around each drumlet and wing.
To make the glaze, mix the garlic, bourbon whisky, maple syrup, orange juice, smoked paprika, salt and pepper in a bowl and mix well.
Baste the chicken wings with the glaze and bake in the oven for 10 minutes. After 10 minutes turn the wings and baste the other side. Return to the oven for another 10 minutes.
Repeat this process twice more, or until wings are cooked and well caramelised.
Serve the chicken with French fries cooked according to the packaging instructions.