Lemon and herb chicken flattie with charred green bean salad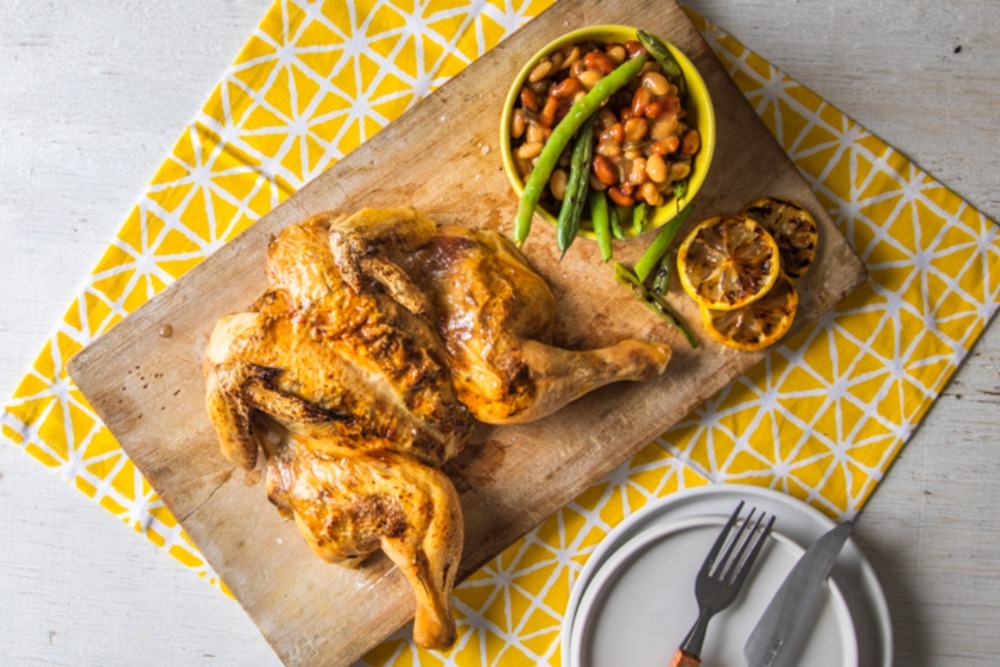 Prep time
12min

Cook time
30min

Serves
6
This is a great technique for braaing chicken in half the time.
Ingredients:
1 lemon, zested and sliced
1 Tbsp (15ml) herbs of choice
2 Tbsp (30 ml) oil
For the Classic Green Bean Salad
A handful of green beans
2 Tbsp (30ml) oil
1 Tbsp (15ml) lemon juice or vinegar
1 tsp (5ml) sugar
1 tsp (5ml) salt
1 can (410g) baked beans, reserve juices
1  can (410g) butter beans, drained
Method:
Turn the chicken upside down (breasts facing down) with the legs facing you.
Cut along both sides of the backbone using sharp scissors.
Flip the chicken over and flatten it down with both hands.
Zest or grate the lemon skin.
Add lemon zest, herbs and oil to a bowl and mix to form a paste.
Pat the chicken dry and place the herb and zest mixture under and over the chicken skin.
Sprinkle the chicken skin with salt and place a few lemon slices along the breast.
Over medium coals, cook the chicken bone side down first for 40 - 45 minutes, flipping after 30 minutes. Arrange the coals around the chicken so that it cooks via indirect heat, not burning the skin before cooking the chicken.
To make the bean salad, on the fire, cook your green beans till vibrant green and slightly charred, about 5 minutes.
To make the dressing, mix oil, vinegar, salt and sugar until sugar and salt have dissolved.
Combine baked beans with can juices, butter beans and charred green beans in a bowl. Drizzle with dressing and serve alongside chicken flattie.