Drumstick tacos with biltong and coleslaw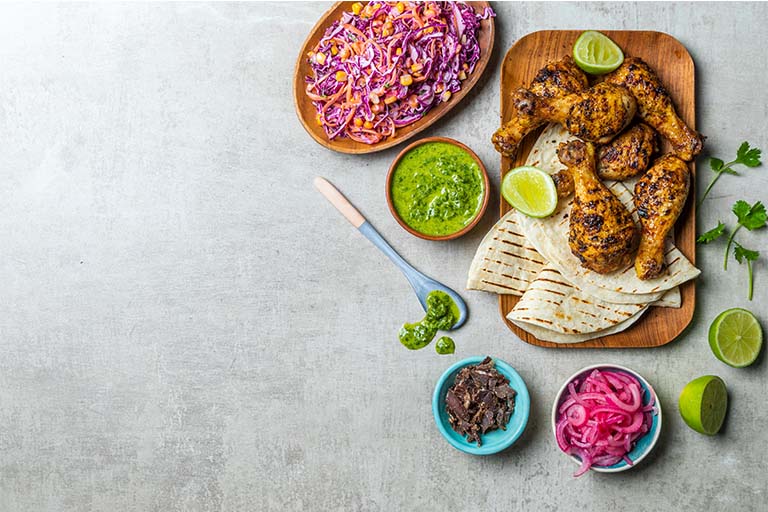 Prep time
60min

Cook time
45min

Serves
4
Having friends over? This dish is a great party starter!
Ingredients:
Chicken:
8 chicken drumsticks
15ml oil
10ml lemon juice
7.5ml paprika
7.5ml ground coriander
5ml ground cumin
salt and pepper
Coleslaw:
1 small red cabbage, thinly sliced
2 carrots, julienned
1 corn on the cob, steamed and kernels sliced off
80ml mayonnaise
15ml lime juice
zest of 1 lime
20g coriander, roughly chopped
5ml smoked paprika
salt and pepper
Coriander dressing:
60g coriander
30ml lime juice
5ml lime zest
100ml olive oil
salt and pepper
8 soft-shell tacos
80g biltong, roughly chopped
pickled red onion
lime wedges
Method:
Chicken:
Preheat the oven to 180°
Combine all the marinade ingredients and mix with the chicken drumsticks.
Heat a griddle pan on high and char the chicken pieces. Place in an ovenproof dish and bake in the oven until cooked through.
Once cooked, remove the chicken from the oven and allow to cool.
Shred the chicken and put aside.
Coleslaw:
Mix the mayonnaise, lime, paprika, salt and pepper.
Massage into the cabbage, carrots and corn.
Stir through the fresh coriander just before seasoning.
Coriander dressing:
Blend the coriander, lime juice and zest. Add a pinch of salt and pepper.
While blending, slowly add the olive oil until you get the desired consistency.
Adjust your seasoning, if necessary.
To serve:
Place a big spoonful of coleslaw into each taco shell.
Top with shredded chicken and drizzle with coriander dressing.
Sprinkle the chopped biltong, pickled red onion slices and fresh coriander onto the top of each taco.
Serve with an extra lime wedge on the side.