Stuffed Cypriot chicken
served with asparagus and vine tomatoes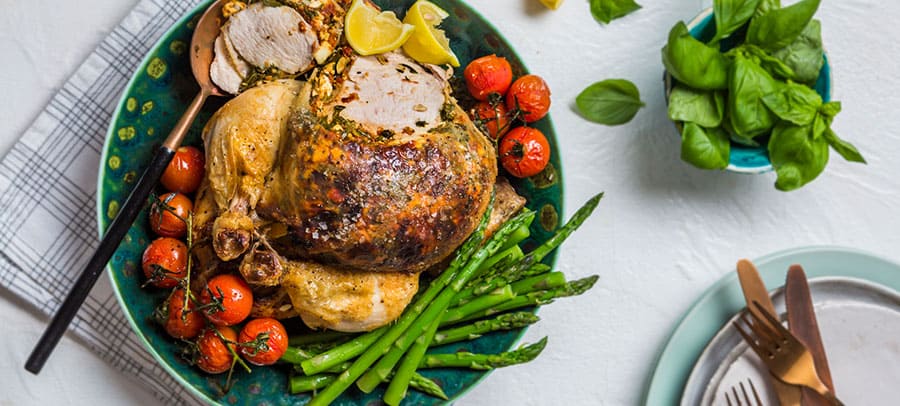 Prep time
20min

Cook time
1h:45min

Serves
4
Take a trip to the Eastern Mediterranean island of Cyprus with this showstopper of a chicken dish.
Ingredients:
Stuffing
Small bunch of fresh flat-leaf parsley
Small bunch of fresh basil
8 sun-dried tomatoes in oil
Black pepper
2-3 garlic cloves
100g feta cheese
Zest of 1 lemon
Chicken
1 whole chicken
2 whole lemons cut into slices
Salt
Vine tomatoes
Asparagus spears
Method:
Preheat the oven to 220°C.
To make the stuffing, pile the parsley, basil and sun-dried tomatoes with a drizzle of their oil and a pinch of pepper onto chopping board. Crush two or three unpeeled garlic cloves over and finely chop everything together, mixing with the knife. Crumble the feta and lemon zest over, and mix again.
Carefully lift the skin from the breasts to create a pocket and put the stuffing in. Put the lemon slices into the cavity of the chicken.
Rub the chicken with olive oil, salt and pepper, and put it onto a cooking rack. Place the cooking rack onto a baking tray to prevent the bottom of the chicken from becoming soggy. Roast the chicken for about 75 to 105 minutes until golden brown and crispy, and the liquid runs clear.
Put the vine tomatoes on a separate roasting dish and drizzle with olive oil. Roast in the oven until they burst.
Blanch the asparagus spears in boiling water just before serving with the chicken, stuffing and tomatoes.