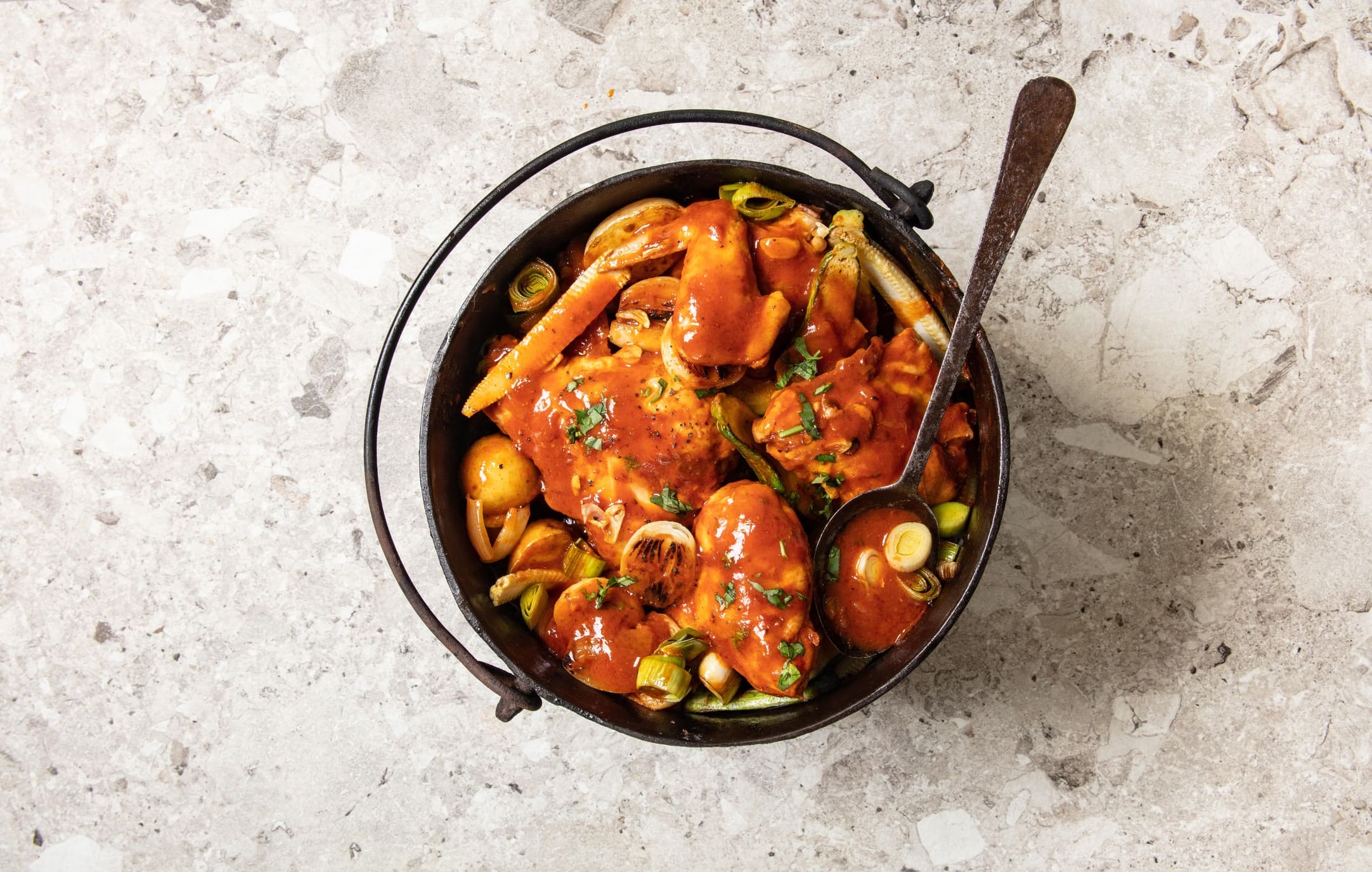 Prep time
15min

Cook time
1h

Serves
6
This potjie is absolutely worth the time and effort. Enjoy socialising around the fire!
Ingredients:
1x County Fair Braai pack 10 pieces
Glug olive oil
Salt and milled pepper
2 Tbsp (30ml) ground coriander
Vegetable oil for frying
½ bag (150g) baby potatoes, halved
2 punnets (300g) baby butternuts, halved
2 onions, sliced
4 garlic cloves, sliced
2 Tbsp (30ml) paprika
¼ cup (60ml) tomato paste
2 Tbsp (30ml) brown sugar
3 cups (750ml) chicken stock
4-6 baby marrows, sliced into thick rounds
1 punnet (200g) baby corn
Juice (60ml) of 1 lemon or 2 limes
Handful of fresh coriander, chopped
Method:
Drizzle the chicken with oil and season with salt, pepper and ground coriander.
Place a large potjiekos pot over hot coals.
Add a generous amount of vegetable oil into the pot and brown chicken in batches for about 3 minutes per side. Remove from the heat and set aside.
Brown potatoes and butternut for 2-3 minutes each and remove from the heat and set aside.
Add more oil if needed and fry onions for 4-5 minutes.
Add garlic and paprika and fry for 2-3 minutes (add a splash of water if needed).
Place pot over medium coals, add tomato paste and sugar and cook for 1 minute.
Return the chicken, potatoes and butternut to the pot, pour over the stock, cover with a lid and simmer for 25-30 minutes.
Add baby marrows and corn, cover with a lid and simmer for another 10 minutes or until the chicken and vegetables are cooked.
Season with lemon or lime juice, salt and pepper and stir through fresh coriander.
Serve with rice, pap, mash or a side salad.