ALOHA CHICKEN WINGS WITH POTATO PANCAKES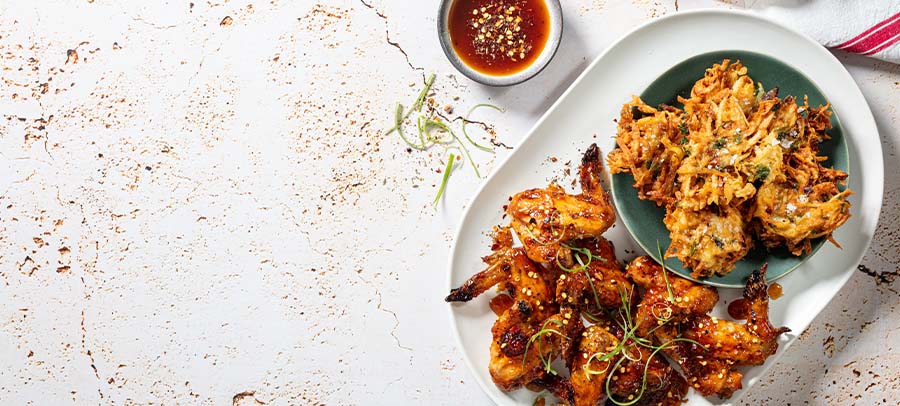 Prep time
30min

Cook time
60min

Serves
4
Make the most of summer entertaining with these delicious, Hawaiian-inspired wings!
Ingredients:
Chicken wings:
1 x pack of chicken wings
125ml pineapple jam
125ml orange juice
50ml BBQ sauce
10ml soy sauce
7.5ml sriracha sauce
salt and pepper
Potato pancakes:
750g potatoes, peeled and grated
1 small onion, finely chopped
2 eggs
2 or 3 spring onions, sliced
10g parsley, chopped
45g flour
oil for frying
salt and pepper
Garnish:
1 spring onion, sliced at an angle
Method:
Chicken wings:
Preheat the oven to 180°
Lightly grease a tray for the chicken wings.
Season the wings generously with salt and pepper and place them skin-side up on the tray.
Roast the wings in the oven for 30 minutes.
In the meantime, make the marinade by putting the pineapple jam, orange juice, BBQ sauce, soy sauce, and sriracha sauce in a pot. Allow the sauce to simmer for about 10 minutes, stirring occasionally, until thickened. Remove from the heat.
Take the chicken wings out of the oven and baste them generously with the marinade. Return them to the oven for another 10 minutes.
Repeat this process again; then remove the wings from the oven.
Potato pancakes:
Start by placing the grated potato in a colander. Squeeze out as much liquid as possible.
Place the dry potato, onion, spring onion, parsley, and flour into a bowl. Season generously with salt and pepper.
Place the oil in a pan for shallow frying (about 0.5cm high).
Once hot, add a spoonful of the mixture. Allow it to cook for 2-3 minutes; then flip and repeat. Drain on paper towel.
Serve the chicken wings with the potato pancakes on the side, garnished with the sliced spring onion.