Tandoori roast chicken
with cauliflower salad and rice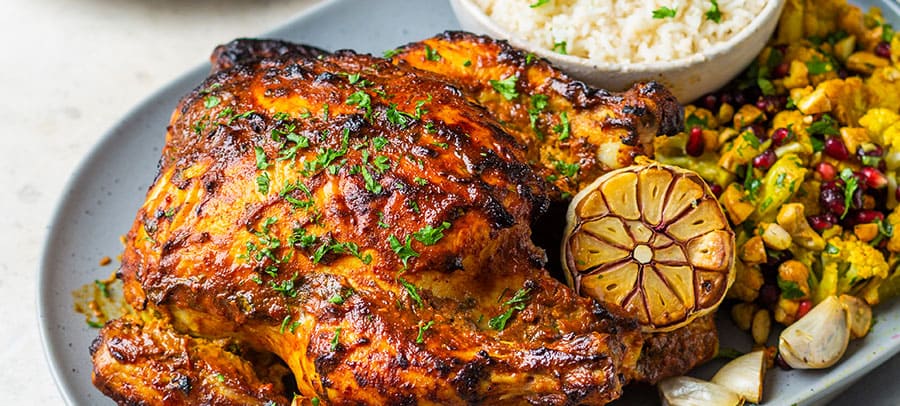 Prep time
15min

Cook time
80min

Serves
6
Tandoori-style roast chicken becomes even more delicious when paired with healthy cauliflower.
Ingredients:
1 whole chicken
Marinade
250ml plain yoghurt
3 cloves garlic
1 thumb of ginger, finely grated
Juice of 1 lime
2 1/2 tbsp tomato paste
Handful coriander, chopped
2 tbsp tandoori paste
1 tbsp ground cumin
1/12 tsp turmeric
1 tsp chilli flakes
1 tsp chilli powder
1 tsp black pepper
1 tbsp salt
Cauliflower salad
1 large bag of cauliflower florets
Canola oil
1/4 tsp turmeric
1/4 tsp cinnamon
1/4 tsp cumin
1/4 tsp coriander
Salt and pepper
20g fresh coriander
1 small bag of honey cashews
1/2 tub of pomegranate kernels
Rice
500g Basmati rice
100g desiccated coconut
Method:
To make the marinade, mix the yoghurt, garlic, ginger, lime juice, tomato paste, coriander, tandoori paste, cumin, chilli flakes, chilli powder, black pepper and salt in a bowl. Marinade the chicken in the fridge overnight.
Preheat the oven to 190°C.
Remove chicken from fridge. Once the chicken has reached room temperature, roast it for 60 minutes. During the last 20 minutes, turn the oven onto the grill to allow the marinade to crisp up and blacken.
To make the salad, toss the cauliflower in oil, turmeric, cinnamon, cumin, coriander, salt and pepper onto a baking tray. Roast in the oven for about 15 minutes at 190°C. Once cooled, mix in the fresh coriander, cashews and pomegranates.
Cook the rice according to the packaging instructions. Toast the coconut in the oven at 190°C until golden and mix through the cooked rice.
Serve with the chicken and salad.