Sticky citrus chicken roasted with cashews and carrots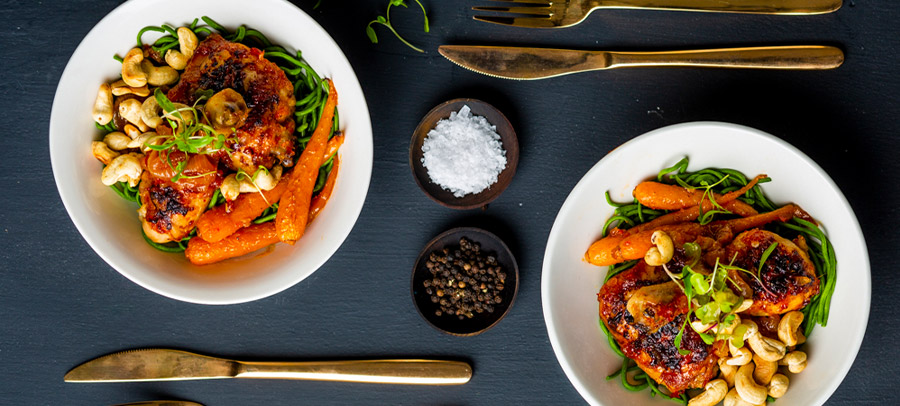 Prep time
15min

Cook time
50min

Serves
4
This is comfort food at its best. Plus, this family-friendly chicken dish is rich in health-boosting nutrients.
Ingredients:
4 chicken thighs
4 chicken drumsticks
300-400g baby carrots
2 onions, cut into thick, round slices
1 tbsp sunflower oil
50g roasted cashews
For the glaze:
100g clear honey
4 tbsp hot chilli sauce
zest of 1 lime, plus 4 tbsp juice (about 2 limes)
zest of ½ orange, plus 2 tbsp juice
1 tbsp rice vinegar
1 tbsp tomato purée
2 balls stem ginger, finely chopped, plus 1 tbsp syrup
small pack coriander leaves, to serve
cauliflower-spinach noodles, to serve
Method:
Pre-heat oven to 200°C.
Toss the chicken thighs, carrots, onions and oil in a big, shallow roasting pan and season. Roast for 30 minutes.
Whisk together the glaze ingredients. Drizzle all over the chicken and vegetables and then roast for a further 15 minutes.
Scatter over the cashews. Mix everything together well and then roast for a further 15 minutes until the chicken is brown, tender and sticky.
Scatter over some coriander and serve with cauliflower-spinach noodles.