BRAAIED GREEK LEMON CHICKEN SOSATIES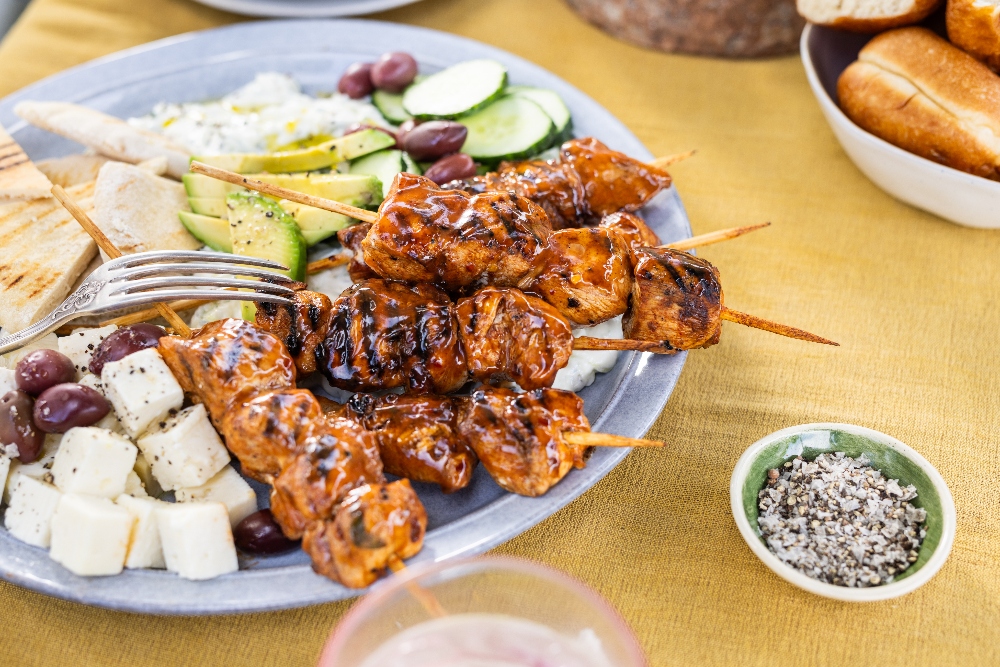 Prep time
24h

Cook time
25min

Serves
4
Wow guests with this impressive platter to share.
Ingredients:
For the Marinade:
1 x pack County Fair Chicken Breast Fillets (4pcs)
3 Tbsp (45ml) olive oil
2 Tbsp (30ml) balsamic vinegar
2 tsp (10ml) smoked paprika
2 Tbsp (30ml) fresh oregano, chopped
1 small onion, chopped
2 cloves garlic, crushed
Zest and juice of 1 lemon
1 tsp (5ml) dried chilli flakes
Salt
To serve:
Tzatziki, feta, olives, mini cucumbers, avocado and pita bread
Method:
In a large zip lock bag, combine the chicken, olive oil, balsamic vinegar, paprika, oregano, onion, garlic, lemon juice, lemon zest, dried chilli flakes, and a large pinch of salt.
Marinate in the fridge overnight.
Soak the sosatie sticks in water so they don't burn on the fire.
Thread the chicken pieces onto the soaked sosatie sticks.
Braai sosaties, turning occasionally until lightly charred and cooked through.
To serve, spread tzatziki on a platter and add the sosaties, feta, olives, mini cucumbers and avo.
Serve with pita bread on the side.