Chicken, lentil and tomato pot with braaibroodjies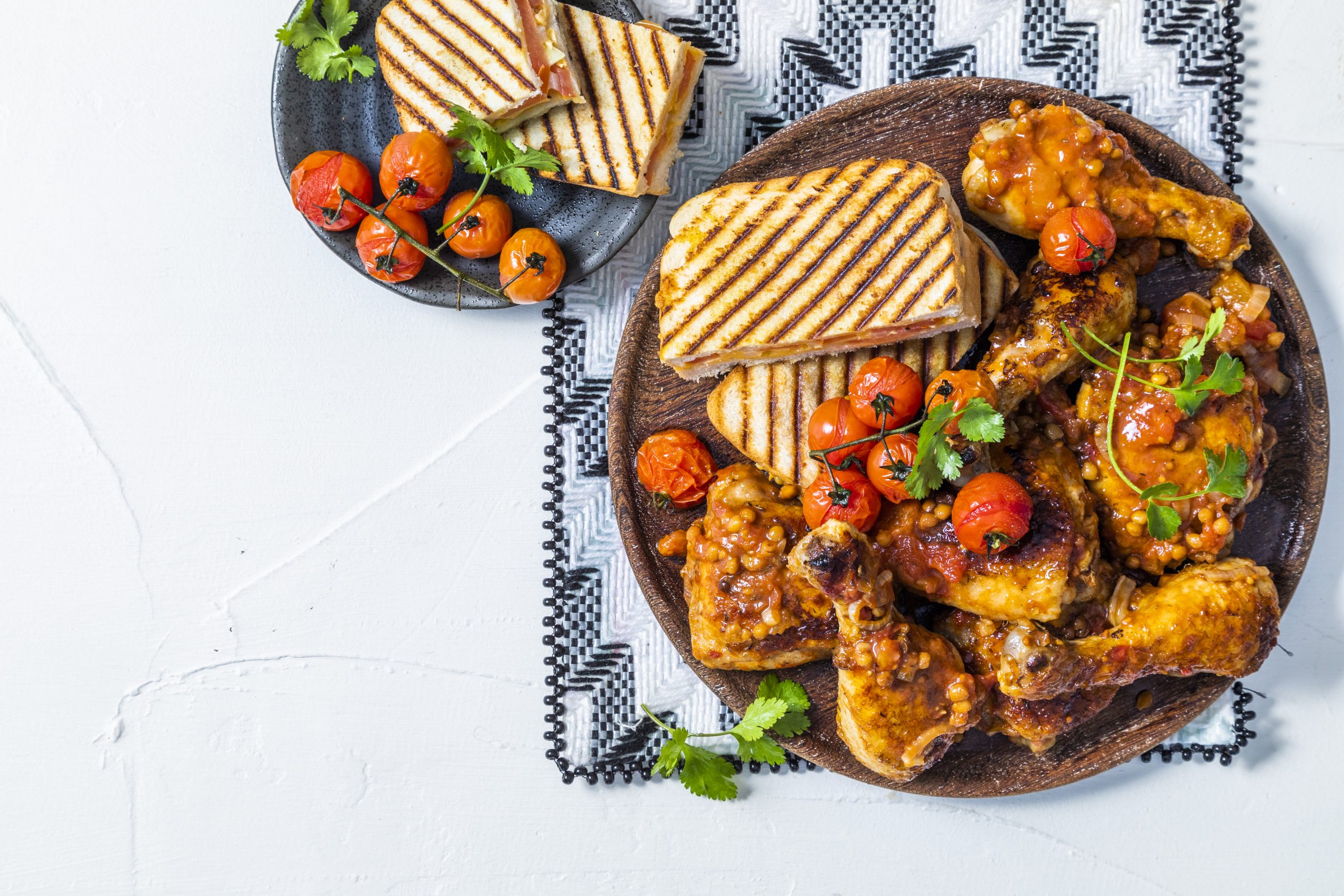 Prep time
30min

Cook time
75min

Serves
4
Few things are more South African than potjiekos and braaibroodjies. This recipe adds a modern twist.
Ingredients:
Chicken 
30ml canola oil
1 x County Fair Star Pack
1 onion, sliced
Salt and pepper
10ml smoked paprika
10ml dried thyme
2 x 400g tins chopped tomatoes
250ml chicken stock
2 x 400g tins brown lentils
10g parsley, chopped
Braaibroodjies
30g butter, softened
8 slices white bread
250g cheddar cheese, grated
1 tomato, thinly sliced
1 onion, thinly sliced
salt and pepper
Method:
Chicken
 Heat 15ml oil in a braai pot over medium-high heat.
 Add the chicken and brown on all sides. Remove from the pan.
 Add the remaining 15ml of oil. Add the onion and cook until softened.
 Add a pinch of salt, pepper, paprika and dried thyme. Cook for a further minute, and then add the tomatoes and chicken stock.
 Place the chicken pieces back into the pot.
 Cook the stew over low heat for about 45 minutes.
 Add the drained lentils and cook for a further 15 minutes. Season to taste with salt and pepper.
 Top with fresh, chopped parsley before serving.
Braaibroodjies
Butter both sides of each piece of bread.
Divide the cheddar between four slices, and then top with tomato and onion. Season with salt and pepper and place another piece of plain, buttered bread on top.
Place the sandwiches between a closed grid. Grill over medium heat, taking care not to burn the broodjies. Turn occasionally and braai until golden and crispy.
Serve the braai pot with the cheesy braaibroodjies.