Grilled butter chicken with carrot and tomato salad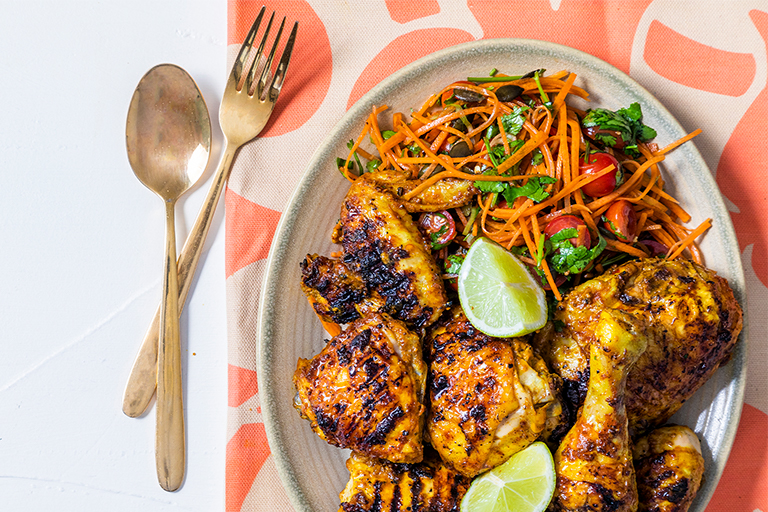 Prep time
60min

Cook time
45min

Serves
6
The yoghurt in the sauce makes for juicy, succulent braai chicken.
Ingredients:
Chicken:
1 x chicken braai pack 250ml yoghurt
½ onion, roughly chopped
4 garlic cloves, roughly chopped
1 thumb ginger, roughly chopped
45ml garam masala
30ml turmeric
30ml ground coriander
30ml ground cumin
30ml chilli flakes
30ml sugar
1 x 400g tin chopped tomatoes
5ml salt
5ml black pepper
Salad:
3 carrots, julienned
1kg cherry tomatoes, halved
20g coriander leaves, roughly chopped
2 spring onion, finely sliced
1 red chilli, deseeded and finely chopped
30g pumpkin seeds, toasted
15ml olive oil
15ml balsamic vinegar
Method:
Chicken: 
Keep the chicken pieces aside. Blend the rest of the ingredients until smooth.
Toss the chicken pieces through the sauce and leave in the fridge to marinate overnight.
Remove the chicken from the sauce, discarding any excess sauce.
Cook the chicken over a medium heat on the braai, getting lots of caramelised colour.
Turn regularly until cooked through. This takes about 40 minutes. Take care not to char the chicken too much.
Salad:
Toss all the ingredients together until combined.
Serve the fresh salad with the crispy, warm chicken.