Southern fried wings
with a blue-cheese dipping sauce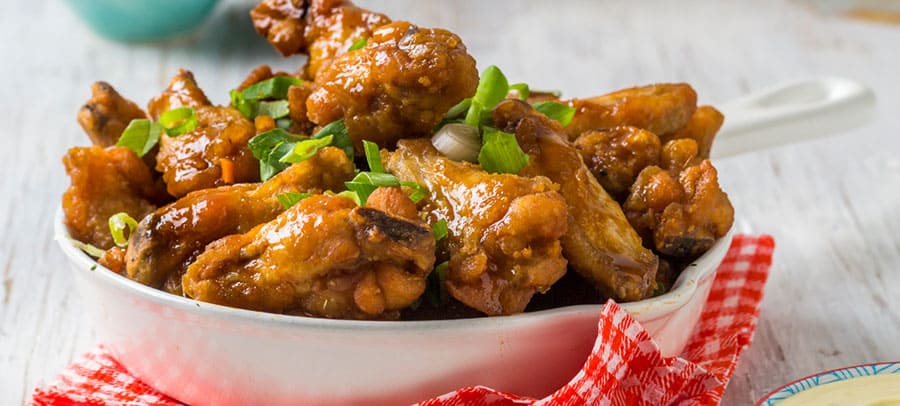 Prep time
30min

Cook time
20min

Serves
4
Master the art of serving delicious party canapés! It really is as simple as adding super-tasty wings to the spread.
Ingredients:
1kg chicken wings
Honey, for drizzling
Canola oil, for deep frying
Flour dredge
2 cups flour
½ tsp cayenne pepper
2 tsp salt
1 tsp freshly ground black pepper
1 tsp dry thyme
1 tbsp powdered ginger
1 tbsp onion powder
1 tsp garlic powder
1½ tsp salt
Blue-cheese sauce
25g butter
1 tbsp flour
150ml milk
50g blue cheese
Method:
Fill a deep fryer with canola oil and preheat to 170°C. Cut the wings into pieces, discarding the tips.
To make the flour dredge, mix the flour, cayenne pepper, salt, black pepper, thyme, ginger, onion and garlic powder. Dredge the wings in the flour mixture, pressing it on firmly.
Drop the wings into the fryer and fry for about 8 to 10 minutes (or a little longer for larger wings), until a medium golden brown. Drain on a wire rack placed over a cookie sheet. Keep the wings warm in a preheated oven (175°C ) if you are making more than one batch.
To make the blue-cheese sauce, make a basic roux by melting the butter in a pan. Add the flour and whisk through. Let the flour cook for about 30 seconds before slowly whisking in the milk. Once fully combined, add the blue cheese and let it melt completely before serving.
Drizzle the platter of wings with honey and serve with the blue-cheese dipping sauce.