Chicken burger with an Asian slaw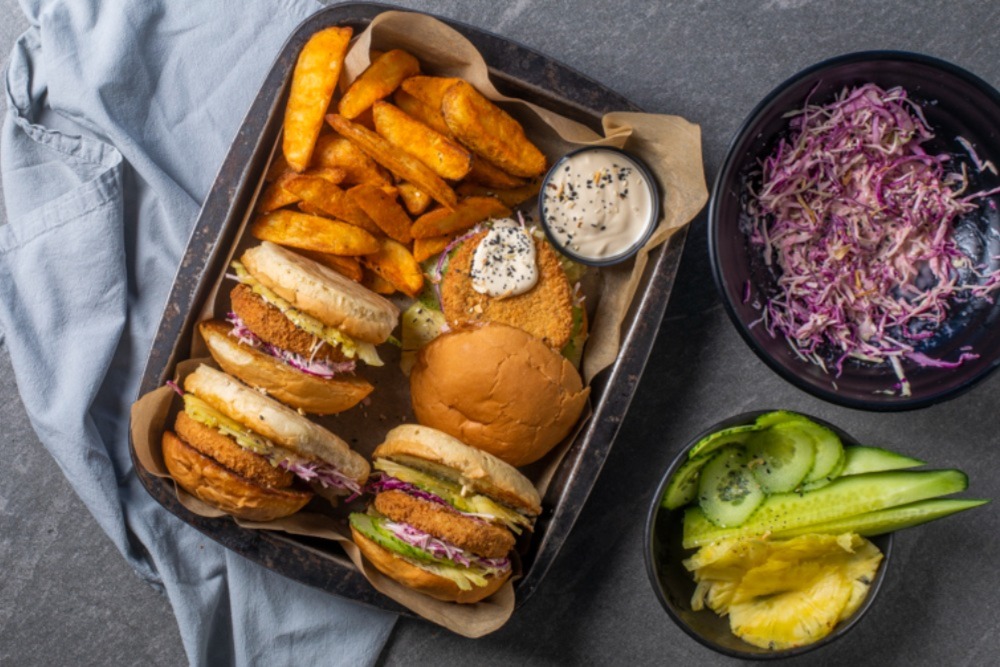 Prep time
30min

Cook time
30min

Serves
4
A crisp slaw and a juicy patty make these burgers the perfect anytime meal.
Ingredients:
4 County Fair Crumbed Chicken burgers
4 burger buns, toasted
½ pineapple, finely sliced
½ cucumber, sliced
¼ red cabbage, shredded
¼ cabbage, shredded
¼ cup (60 ml) Japanese or regular mayonnaise
1 Tbsp (15ml) rice wine vinegar
1 Tbsp (15ml) sesame oil
1 tsp (5ml) soy sauce
4 potatoes, cut into wedges
½ Tbsp (7ml) paprika
½ Tbsp (7ml) cayenne pepper
1 tsp (5ml) salt
¼ cup (60ml) oil
Method:
Place chicken burgers on a baking tray and bake at 180°C for 20 minutes.
Layer cucumber and pineapple on the bottom of the burger buns.
To make the slaw, combine cabbage in a bowl, together with Japanese mayo, rice wine vinegar, sesame oil and soy sauce. Coat the cabbage well.
Layer roll with coleslaw and top with County Fair Chicken Burger patty.
Garnish with sesame seeds and serve with peri peri potato wedges.
For the peri peri wedges: Preheat the oven to 200°C and place a roasting tray with oil in the oven.
Par-cook potatoes by placing them in a bowl, pierce potatoes with a fork and microwave for 8 minutes.
Once the potatoes are out of the microwave, place them on the heated roasting tray.
Coat potatoes in oil and sprinkle with paprika, cayenne pepper and salt to coat.
Roast until potatoes are crispy, for about 20 minutes. Serve with the burgers.