Moroccan chicken and dried apricot tagine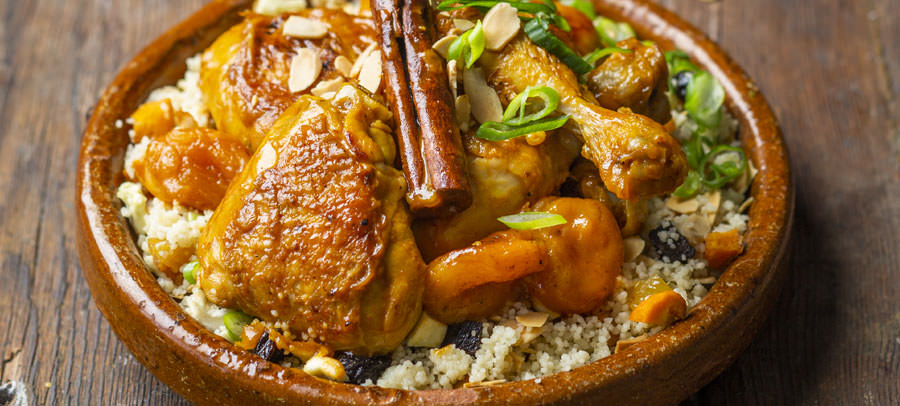 Prep time
15min

Cook time
1h:15min

Serves
6
Ever tried cooking with a tagine? The earthenware dish is a worthwhile investment that makes chicken sing!
Ingredients:
6 chicken wings
4 chicken thighs
4 chicken drumsticks
1 tbsp olive oil
20g butter
2 small brown onions, finely chopped
2 tsp ground cumin
1 tsp ground coriander
1 cinnamon stick
½ tsp ground ginger
Large pinch of saffron threads
2 tbsp tomato paste
500ml chicken stock
100g dried apricots
100g flaked almonds
100g mixed dried fruit, coarsely chopped
2 cups couscous, cooked according to instructions
Spring onion, sliced
Fresh coriander leaves to serve
Method:
Season the chicken with salt and pepper. Heat the oil in a flameproof casserole dish over medium-high heat. Cook half the chicken for 3 to 4 minutes on each side, or until golden. Transfer to a plate and repeat with the remaining chicken.
Melt the butter in the casserole dish. Add the onion and cook for about 5 minutes, or until golden. Stir in the cumin, ground coriander, cinnamon, ginger and saffron for about 30 seconds or until aromatic. Add the tomato paste, chicken, stock and apricots, and bring to the boil. Cover and reduce the heat to medium-low and simmer for 30 minutes. Uncover and turn the chicken. Simmer, uncovered, for 30 minutes or until tender.
While the chicken is cooking, put the almonds onto a baking tray and toast lightly in the oven for about 5 minutes at 180°C. Mix the toasted almonds with the dried fruit, couscous and spring onion.
Top the tagine with fresh coriander and serve with the couscous.