Satay stuffed sweet potato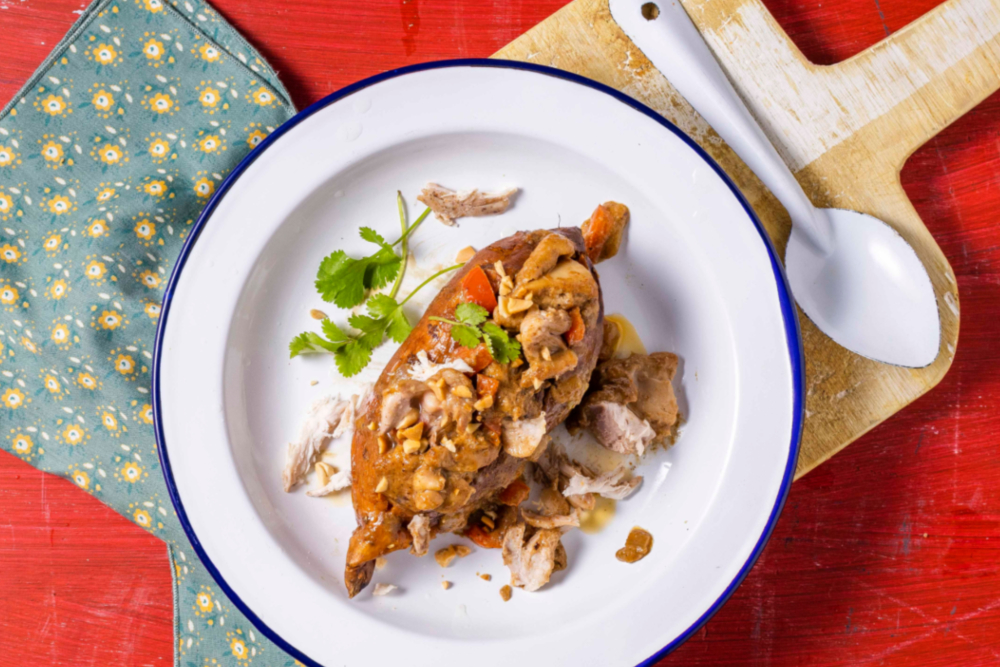 Prep time
40min

Cook time
15min

Serves
4
We added a twist to chicken satay, instead of stirring in the sweet potato to the stew we bake it and stuff it with the chicken stew.
Ingredients:
4 sweet potatoes
3 Tbsp (45 ml) oil
1 onion, sliced
8 chicken thighs, cubed
1 red pepper, chopped
2 garlic cloves, chopped
5cm ginger grated
1 tsp (5 ml) ground coriander
1 tsp (5 ml) chilli powder
80g no sugar smooth peanut butter
2 cups (500 ml) chicken stock
Handful of coriander, chopped
30g peanuts, chopped
Method:
Preheat oven to 180°C.
Prick small holes all over the unpeeled sweet potato using a fork.
Place the sweet potatoes on a baking sheet and rub oil over each. Bake for 40 minutes or until soft.
Sauté onions in oil in a saucepan over medium heat for 3 minutes.
Add chicken and brown for 5 minutes. Tip in peppers garlic, ginger, coriander, and chilli over the chicken stirring for 5 minutes.
Mix peanut butter and hot chicken stock in a jug. Pour the peanut butter mixture over the chicken. Simmer for 20 minutes.
Slice the sweet potato lengthways, halfway to make a pocket. Spoon the chicken mixture inside the pocket.
Sprinkle with chopped peanuts and fresh coriander. Serve.