Chicken with sadza, kale salsa and carrot salad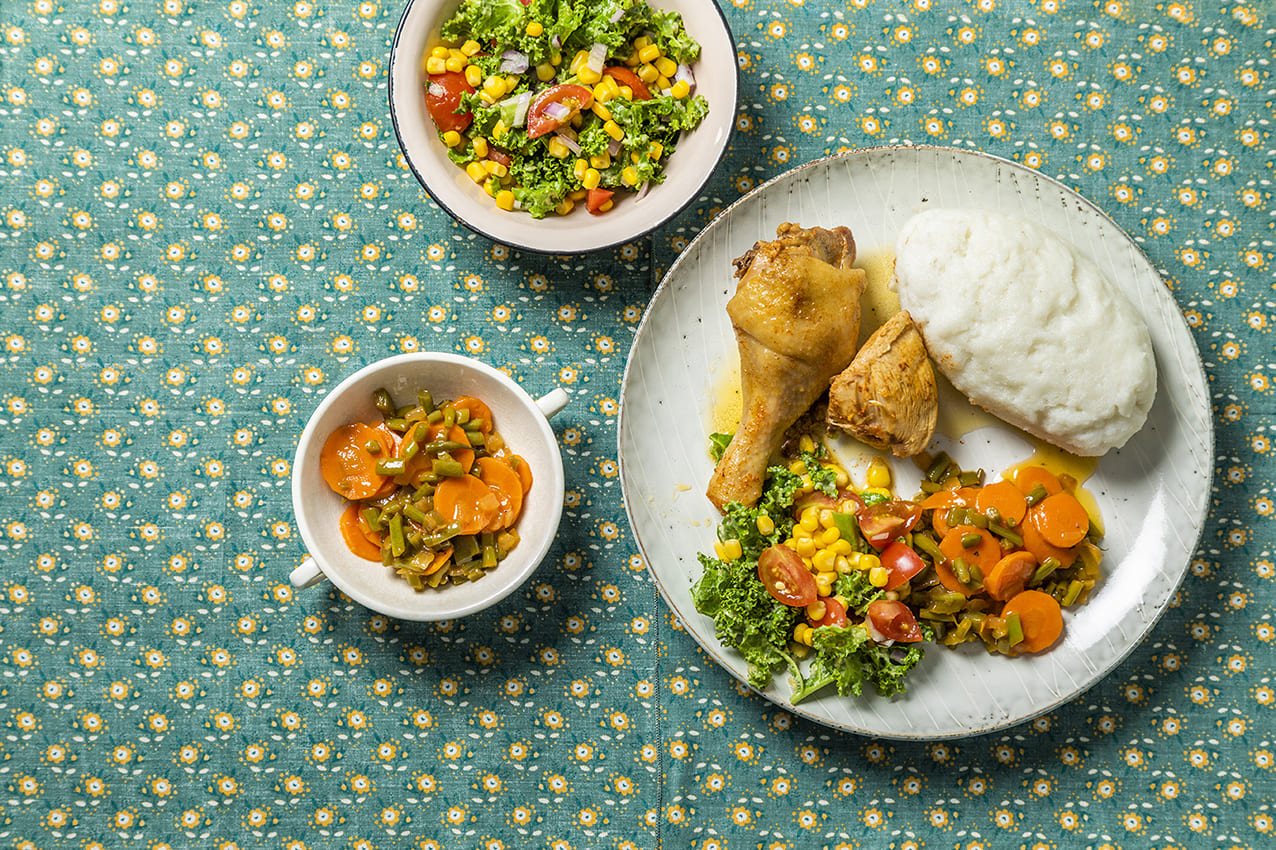 Prep time
20min

Cook time
120min

Serves
6
Sadza is a Zimbabwean pap cooked in a unique way. It's really smooth and satisfying!
Ingredients:
For the chicken:
1 whole chicken, cut into portions
3 litres chicken stock
5ml paprika
salt
For the carrot salad:
45ml vegetable oil
5 carrots, sliced
1 onion, chopped
1 green pepper, chopped
a handful of green beans, chopped
30ml tomato soup powder
60ml sugar
60ml vinegar
15ml Worcestershire sauce
1ml mustard powder
salt
For the kale salsa:
1 bunch kale, chopped
1 avocado
½ lemon, juiced
cherry tomatoes, halved
1 green chilli, chopped
5ml paprika
½ red onion, chopped
1 can sweetcorn
For the sadza:
1 litre water
750ml maize meal
salt
Method:
Place the chicken in a large pot with the stock, salt and paprika, and cover with water.
Bring the stock to the boil, reduce the heat, and simmer for 2 hours.
In the meantime, make your carrot salad. Heat oil in a hot pan, and add the carrots and onions. Sauté until the onions are translucent. Add the green pepper and beans and cook for 5 minutes, stirring.
Mix the soup powder with 125ml water and pour the mixture into the pot with the chicken. Add the rest of the ingredients and simmer for 10 minutes. Set aside to cool.
Now make your kale salsa. Rub the kale with the avocado and lemon juice. Add the rest of the ingredients and mix well. Refrigerate.
It's time to make the sadza. Bring 3 cups of water to boil in a large pot. Combine 1½ cups of maize meal with another cup of water.
Reduce the heat and add the maize meal, stirring constantly until it starts to bubble. Cook for 15 minutes. Start adding the remaining maize meal, mixing well with every addition. The mixture should be smooth.
Reduce the heat and leave until the pap starts to pull away from the sides. Use spoon to shape.
Serve the chicken with the pap, kale salsa and your zingy carrot salad on the side.