BBQ Chicken sweet potato traybake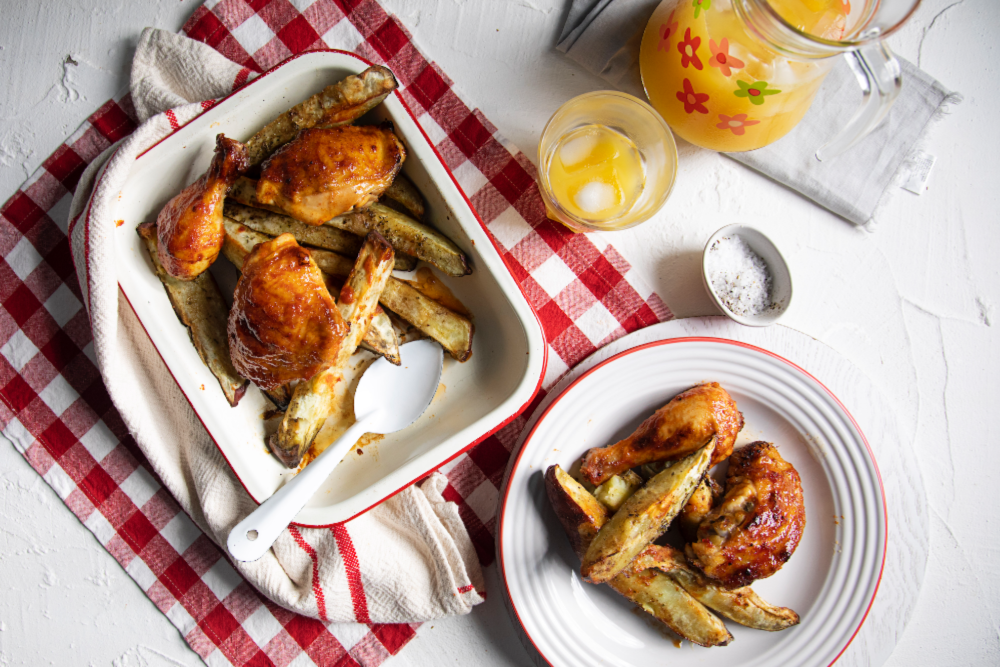 Prep time
15min

Cook time
45min

Serves
6
Sweet potatoes are not only packed with nutrients but are perfect for soaking up all the chicken juices.
Ingredients:
BBQ Sauce
8 Pieces Goldi Mixed Portions
¾ cup (180ml) tomato sauce
2 Tbsp (30ml) sugar
1 Tbsp (15ml) vinegar
2 tsp (10ml) cayenne pepper or paprika
2 Tbsp (30ml) water
2 Tbsp (30ml) oil
Potatoes
4 large sweet potatoes, cut into quarters
1 tsp (5ml) salt
1 Tbsp (15ml) cumin, optional
1 Tbsp (15ml) dried herbs, optional
2 Tbsp (30ml) oil
Method:
Combine tomato sauce, sugar, vinegar, cayenne pepper, and water, and add chicken.
Place sweet potatoes on a baking tray, and add oil, herbs and cumin if using.
Place the chicken skin side up on the potatoes, and add any remaining barbeque sauce to the chicken.
Roast for 45 minutes at 170ºC on the lower rack, rotating the tray halfway through baking.
Cover if the chicken becomes too brown.
Serve immediately.