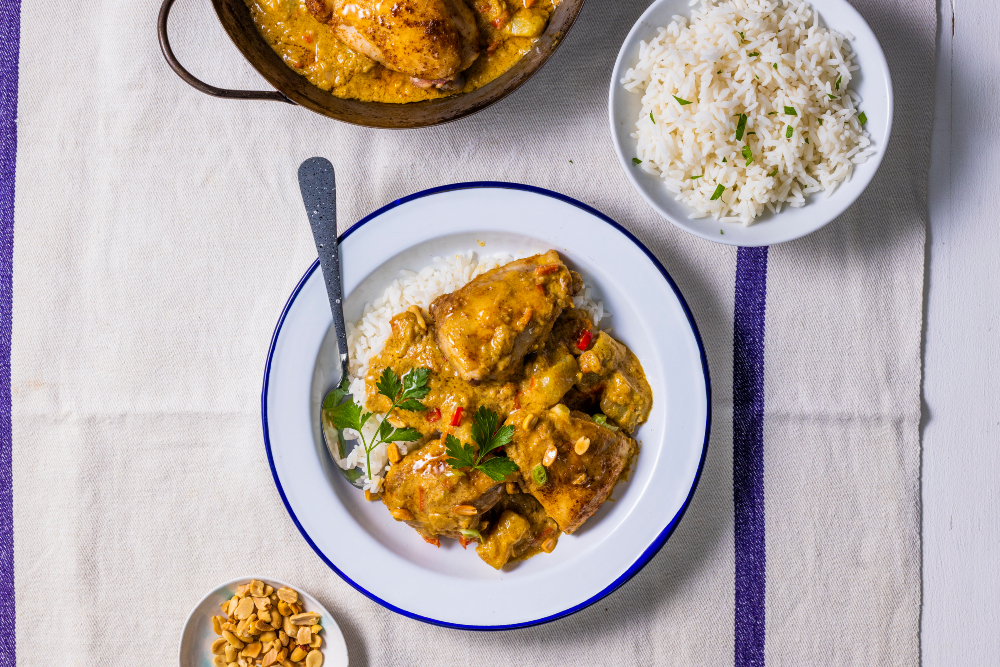 Prep time
10min

Cook time
40min

Serves
8
Tired of the same old vegetable stew? Try this peanut spicy meal that will get everyone praising your cooking.
Ingredients:
2 Tbsp (30ml) oil
1 onion, sliced
2 sweet potatoes, diced
1 red pepper, chopped
80g no sugar smooth peanut butter
2 cups (500ml) chicken stock
8 chicken thighs
2 garlic cloves, chopped
5cm ginger, grated
1 tsp (5ml) ground coriander
1 tsp (5ml) chilli powder
Handful coriander, chopped
30g peanuts, chopped
Cooked rice, to serve
Method:
Sauté onions in an oiled saucepan over medium heat for 3 minutes.
Stir in sweet potatoes and peppers and cook for 10 minutes. Set aside the sweet potato mixture on a
Return the saucepan to heat and add chicken. Brown for 5 minutes.
Tip in the garlic, ginger, coriander, and chilli over the chicken stirring for 5 minutes.
Return the sweet potato mixture to the
Mix peanut butter and hot chicken stock in a jug. Add the peanut butter mixture to the pot.
Simmer for 20 minutes.
Garnish with chopped peanuts and serve over rice.