Baked garlic and paprika thighs
served with courgette, parmesan and mint salad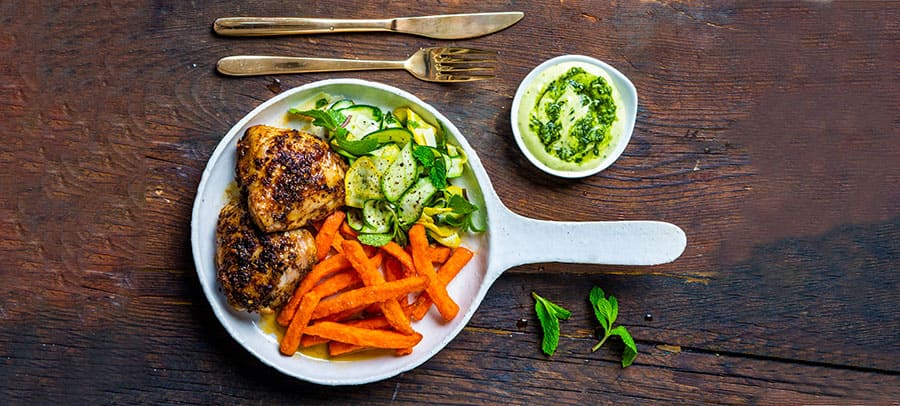 Prep time
10min

Cook time
45min

Serves
4
In this easy recipe, garlic and paprika add delicious Portuguese flavour to chicken thighs.
Ingredients:
8 thighs
Salt and pepper
1/2 cup olive oil
8 cloves garlic, minced
2 tbsp smoked paprika
1/2 tsp red pepper flakes
2 tbsp fresh oregano, chopped
Sweet-potato fries and mayo
1/2 bag of sweet potato fries
1/2 cup mayonnaise
2 tbsp green pesto
Squeeze of lemon
Salad
1 packet courgettes, cut into ribbons
1/2 packet patty pans, cut into discs
20g mint, roughly chopped
1 block of parmesan, grated
Lemon
Olive oil
Salt and pepper
Method:
Preheat the oven to 200°C degrees.
Clean and dry the chicken thighs, and season with salt and pepper. Set aside.
Heat the olive oil in a small skillet. Add the garlic, smoked paprika, red pepper flakes and oregano. Cook for about 1 minute over medium heat, taking care you don't burn the garlic.
Pour the olive oil/paprika mixture over the thighs, making sure they are thoroughly coated. Put the thighs onto a baking dish and bake for about 45 minutes, or until the chicken legs are cooked through.
Cook the sweet-potato fries according to instructions on the packaging. Mix the mayonnaise with the pesto and lemon.
To make the salad, mix the courgettes, patty pans, mint and parmesan. Dress with lemon, olive oil, salt and black pepper.
Serve the salad with the chicken, mayonnaise and sweet-potato fries.