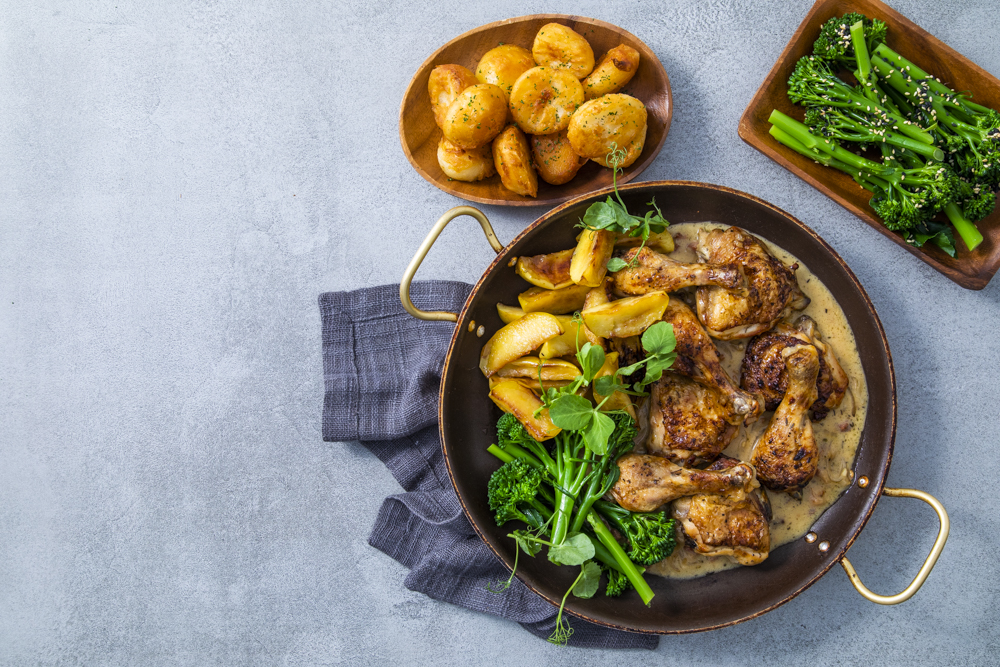 Prep time
30min

Cook time
1h

Serves
4
Fry the bacon and colour the chicken skin first. You'll be surprised how much flavour these two steps add!
Ingredients:
200g bacon bits
1 x pack County Fair Star Pack
salt
pepper
1 onion, thinly sliced
4 cloves garlic, finely chopped
3 sprigs thyme
15ml flour
250ml cider
150ml chicken stock
150ml cream
4 golden delicious apples, sliced into wedges
15ml olive oil
roasted potatoes
steamed tender-stem broccoli
Method:
Preheat the oven to 180°
Spread out the bacon bits over a skillet and fry over a medium heat, stirring often. Once all the fat has rendered and the bacon has a beautiful colour, remove it from the skillet. Don't discard the fat.
Season the chicken pieces with salt and pepper. Turn the heat up to medium high and add the chicken skin-side down, browning it in the bacon fat. Remove from the skillet.
Turn the skillet down to low and add the onions, garlic and thyme. Sauté gently until softened. Add the flour and stir through for 2 minutes. Deglaze with the cider, chicken stock and cream, and bring to the boil. Add the chicken pieces, skin-side up.
Place the skillet in the oven for 1 hour.
Toss the apple wedges with the olive oil and some seasoning. Heat a pan over a medium heat and add the apples, tossing until golden and soft (but not mushy).
Serve the warm chicken with roasted apple on the side, crispy roast potatoes and steamed broccoli.