Roast chicken stuffed with fragrant couscous
and served on a potato rösti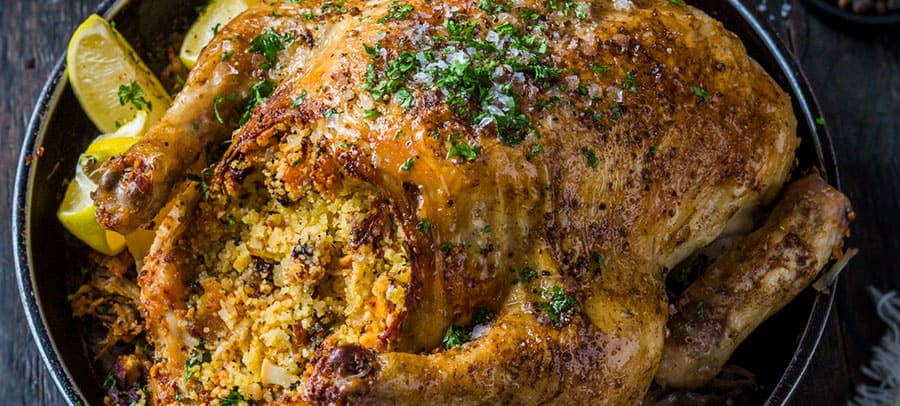 Prep time
45min

Cook time
1h:45min

Serves
4
Hosting lunch or dinner doesn't have to be a stressful affair. Give this easy roast chicken recipe a try.
Ingredients:
Couscous
80g couscous
Zest and juice of 1 orange
Zest and juice of 1 lemon, reserve a lemon half
1 handful of mixed dried fruit
1 handful of mixed nuts, crushed
1 large handful fresh mint and parsley, plus extra to serve, roughly chopped
Extra-virgin olive oil
½ a wineglass warm water
Rösti
2 large potatoes, peeled
3 large sweet potatoes, peeled
Spice mix
1 tsp fennel seeds
1 tsp coriander seeds
½ tsp ground cinnamon
½ tsp cumin seeds
2 cardamom seeds
1 tsp black peppercorns
1 tsp sea salt
1 whole chicken
crème fraîche or sour cream, to serve
Method:
Preheat the oven to 190°C.
Put the couscous, orange and lemon zest and juice, dried fruits, nuts, mint and parsley into a bowl. Add a couple of tablespoons of extra-virgin olive oil, warm water and mix together.
Coarsely grate the potatoes and sweet potatoes into a bowl for the rösti and set aside.
To make the spice mix, crush the fennel seeds, coriander seeds, ground cinnamon, cumin seeds, cardamom seeds, salt and pepper in a pestle and mortar until you have a fine powder.
Stuff the chicken with the couscous – make sure you pack it in tightly. Close the cavity with one of the lemon halves you squeezed – this will keep the couscous inside the chicken while it cooks.
Rub the chicken with a little olive oil and half the spice mix, adding the rest of it to the potatoes.
Rub a couple of tablespoons of olive oil into a roasting tray or casserole-type pan, add the potato rösti and press firmly down. Gently place the chicken on top of the potato rösti and roast for 30 minutes. Turn the heat down to 170°C and cook for another 60 minutes.
When the chicken is cooked, remove the tray from the oven and check that the couscous is hot. Discard the lemon half from the cavity and let the chicken rest for about 5 minutes before putting it onto a carving board.
Remove some of the excess fat from the potatoes with a some kitchen paper – just lay it over the top to soak up the fat and then discard.
Carve the meat and divide it between the serving plates. Serve with a spoonful of potato rösti and couscous stuffing. Sprinkle the extra mint and parsley over the top and serve with some crème fraîche or sour cream.