Chimichurri-crusted chicken drumsticks with cornbread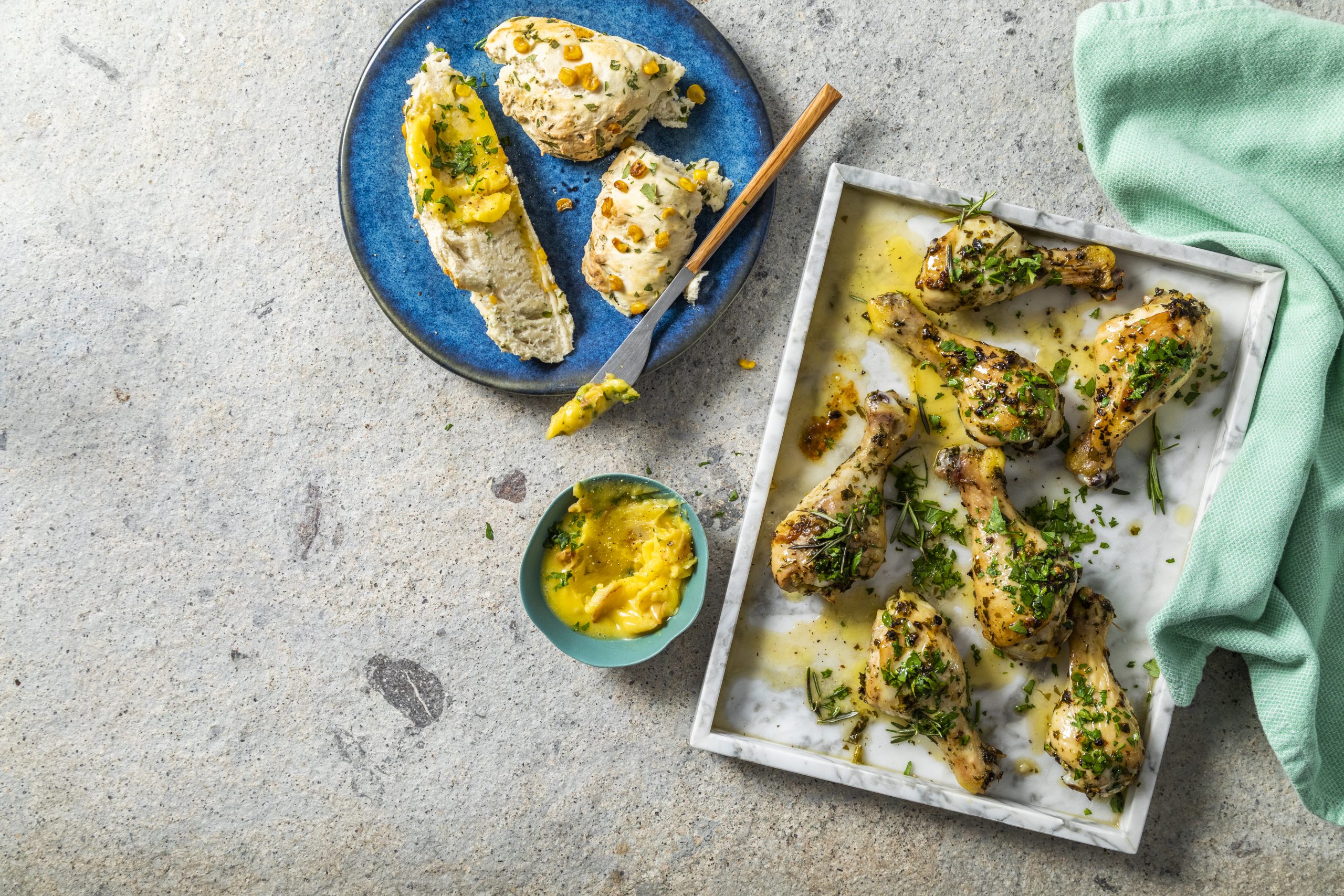 Prep time
30min

Cook time
60min

Serves
6
The chimichurri adds a burst of freshness! Any leftovers can be stored in an airtight container in the fridge.
Ingredients:
Chimichurri:
a handful each of parsley, coriander and basil, chopped
4 garlic cloves, chopped
a generous glug of olive oil
juice of 1 lemon
salt and milled pepper
12 chicken drumsticks
Cornbread and butter:
1kg store-bought bread dough
1 can corn kernels, drained
a handful of fresh coriander, chopped
butter
4 garlic cloves, sliced
1/3 cup butter
Method:
Combine the herbs, garlic, oil, and lemon juice. Season.
Coat the chicken generously with the herb mixture and place on a baking tray.
Bake at 180°C for 15-20 minutes, or until golden and cooked through.
Knock down the dough and knead in the corn and herbs until combined.
Place the dough in a greased rectangular loaf tin, cover and allow to rise for 30 minutes.
Brush with butter and bake for 40-45 minutes or until a skewer comes out clean.
For the butter, heat oil in a pan.
Fry the garlic for 1-2 minutes until fragrant and slightly golden.
Remove from the heat, add the butter, and stir until melted.
Set aside to cool.
Serve the chicken with corn bread and lashings of softened garlic butter.
Cook's note
: Consider shaping the dough into mini dough balls. This will make them bake faster.