Cinnamon and ginger spiced chicken pieces with sweet potato mash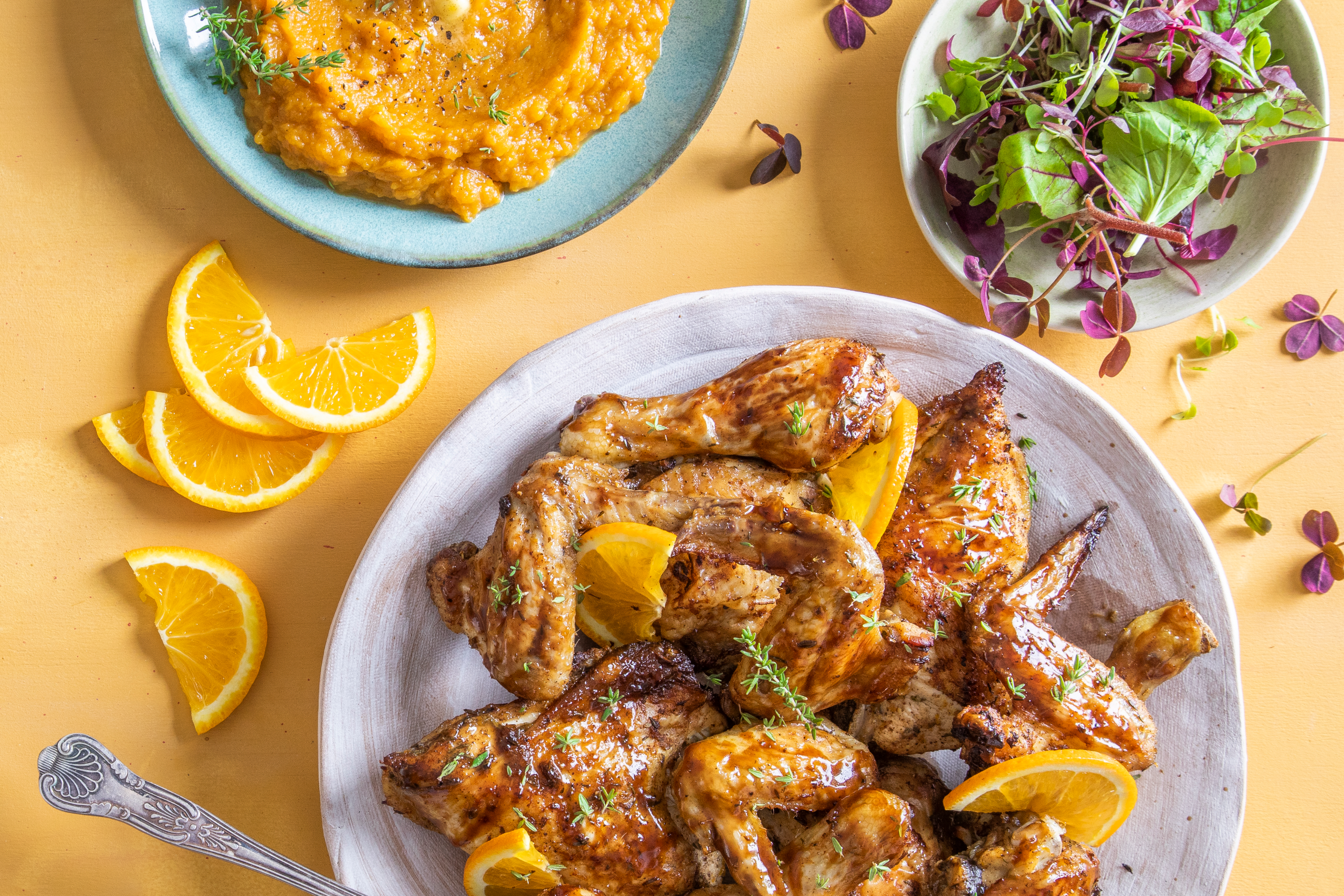 Prep time
1h:20min

Cook time
1h

Serves
6
The flavour combo reminds of Middle Eastern fare yet fits right into summer. A must-try!
Ingredients:
Chicken:
4 Tbsp (60ml) olive oil
3 Tbsp (45ml) finely grated fresh ginger
Juice & zest of 1 orange
1 ½ Tbsp (20ml) ground cinnamon
1 Tbsp (15ml) dried thyme
2 tsp (10ml) ground cumin
2 tsp (10ml) salt
½ tsp (3ml) ground black pepper
1 x County Fair Braai Pack
Sweet potato mash:
1.5kg orange sweet potato, peeled and cut into rough 3-4cm chunks
3 Tbsp (45ml) olive oil
1 tsp (5ml) salt
½ tsp (3ml) cinnamon
30g butter
1/3 cup (80ml) milk, warm
Method:
Prepare the chicken: Place the olive oil, ginger, orange juice & zest, cinnamon, thyme, cumin, salt and pepper into a large bowl and mix well. Add the chicken pieces and toss to coat, massaging the marinade into the chicken. Cover and refrigerate for at least one hour.
Preheat the oven to 180°C.
Place the chicken pieces skin side up in a roasting dish. Roast in the oven for 1 hour until golden and cooked through.
For the sweet potato mash: Preheat the oven to 180°C.
Place the sweet potato chunks onto a lined roasting tray. Drizzle over the olive oil, salt and cinnamon. Toss well.
Roast for 25-30 minutes, until soft.
Place the warm sweet potato into a bowl and mash. Add the butter and enough milk to get a creamy, smooth consistency. Serve the warm creamy sweet potato mash with the chicken pieces.