PUFF PASTRY CHICKEN BREAST STUFFED WITH MOZZARELLA & PESTO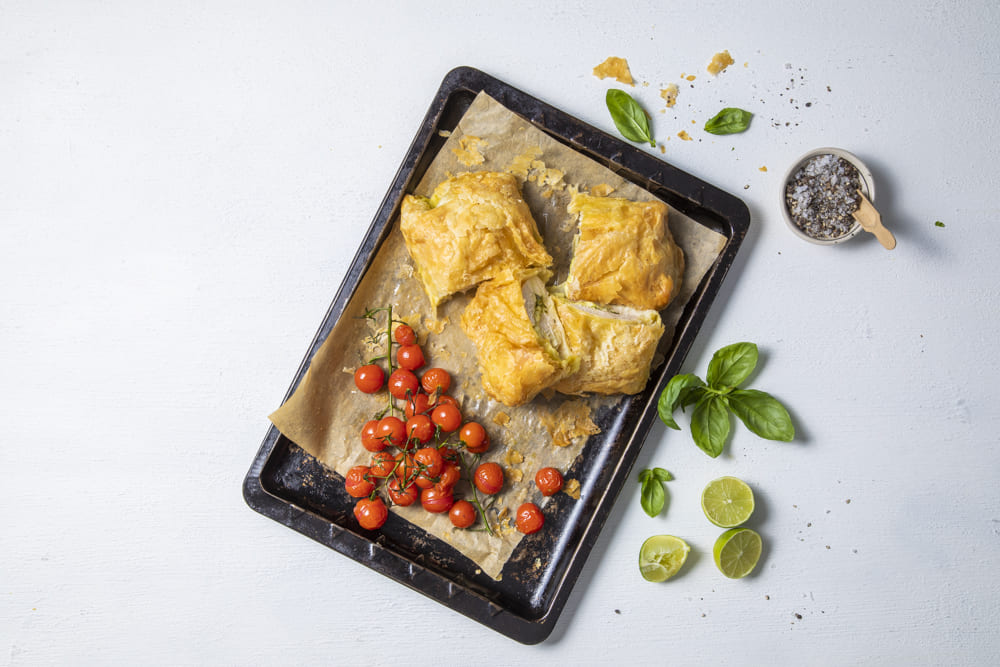 Prep time
30min

Cook time
30min

Serves
4
A light and easy dinner ready in a snap.
Ingredients:
1 x County Fair Skinless Chicken Breasts pack (4 pieces)
50g basil pesto
100g mozzarella, grated
1 x 400g roll of frozen puff pastry, thawed
1 punnet (500g) cherry tomatoes
Olive oil
Salt and milled black pepper
Method:
Preheat the oven to 190°C.
Using a sharp knife, make an incision along the side of each chicken breast, creating a pocket for the filling.
Fill each chicken pocket with pesto and mozzarella cheese.
Press firmly to close and season generously with salt and pepper on both sides.
Divide the puff pastry into four equal blocks.
Place a chicken breast in the centre of each, then fold the pastry over, enclosing it.
Flip the pastry pocket; the sealed part is underneath.
Place on a greased baking tray and brush with olive oil.
Bake in a preheated oven for 30 minutes until cooked.
In the meantime, heat 2 Tbsp olive oil in a pan over medium-high heat.
Add the tomatoes and fry for a few minutes, occasionally tossing until they burst and soften slightly—season with a pinch of salt and pepper.
Serve the chicken with tomatoes on the side.