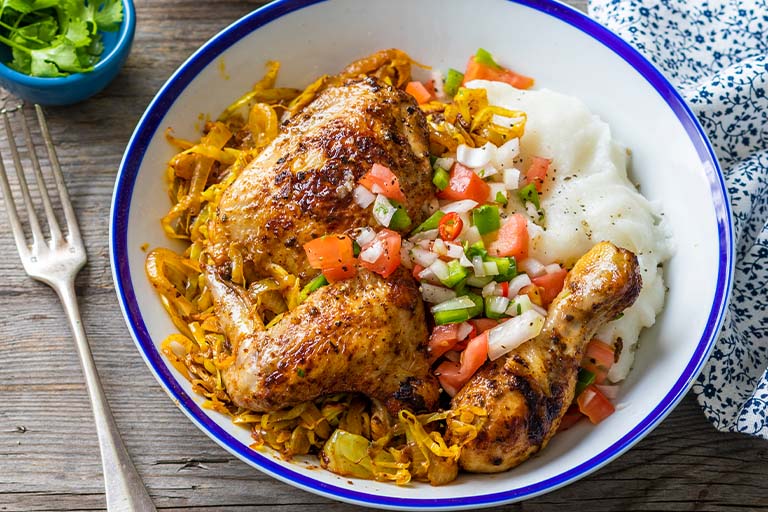 Prep time
20min

Cook time
45min

Serves
4
This recipe may sound simple, but it's a fantastic way to serve chicken.
Ingredients:
1.5kg mixed chicken pieces, defrosted
3 tbsp oil
2 tsp dried mixed herbs
3 tbsp chicken spice
1 chicken stock pot
Curried cabbage: 
2 tbsp oil
1 onion, sliced
½ head cabbage, shredded
¼ tsp ground turmeric
1 tbsp curry powder
Tomato salsa:  
4 salad tomatoes, chopped
1 green pepper, chopped
1 onion, finely chopped
10g fresh coriander, chopped
2 tbsp red wine vinegar
2 green chillies, minced
salt and pepper
pap to serve
Method:
Place a large non-stick pan over medium heat.
In small bowl, mix oil, dry herbs and chicken spice. Rub the mixture over the chicken. Brown the chicken pieces in batches.
When the chicken is browned, return all the pieces to the pan.
Reduce the heat, add the chicken stock with a ¼ cup of water, cover, and let the broth simmer until the chicken is fully cooked.
Curried cabbage:
Add the oil to a medium pot over high heat.
Add the onion and sauté until slightly browned.
Add the cabbage and continue to sauté until lightly charred.
Add the turmeric and coriander. Cook, stirring, until the spices are blended well. Season with salt and pepper.
Tomato salsa:
Mix all the ingredients in a bowl and chill for at least 30 minutes.
Serve the chicken, cabbage, and salsa with pap. Delicious!