OPEN PITA SANDWICH WITH GRILLED CHICKEN, YOGHURT & PEPPER SPREAD & FETA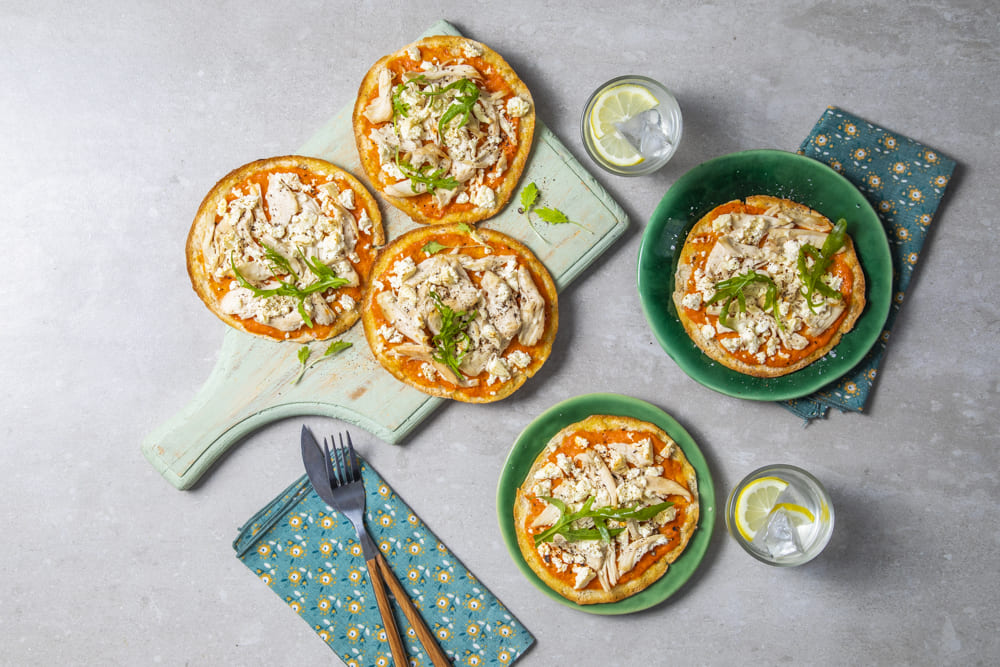 Prep time
30min

Cook time
30min

Serves
6
A sure favourite 'cheat's pizza'. Try it tonight!
Ingredients:
1 x County Fair Skinless Chicken Breasts pack (4 pieces)
3 red peppers
2 Tbsp (30ml) full-fat yoghurt
4 pita bread
100g feta, crumbled
Olive oil
Salt and milled black pepper
Rocket (optional)
Method:
Preheat the oven to 200°C.
Place chicken breasts on one oven tray and the whole red peppers on another.
Drizzle each with 3 Tbsp of olive oil and season with salt and pepper.
Toss both well and place in the oven.
Cook the chicken breasts for 20-25 minutes, until cooked through
Cook the peppers for 30 minutes or until soft. Turning every 10 minutes.
Remove from the oven and allow both to cool.
Shred the chicken when cool enough to handle.
Peel the cooled peppers and discard the skin, stalk and seeds.
Roughly chop the peeled peppers, and blend them with the yoghurt to form a spread. Season to taste with salt and pepper.
Preheat the oven to grill.
Slice pita bread in half so you have two rounds.
Spread a spoonful of the red pepper yoghurt over the base of each. Top with shredded chicken, and sprinkle with feta cheese.
Preheat the oven grill.
Place pitas under the grill for 8-10 minutes until the feta caramelises.
Sprinkle with rocket; if using, serve warm.