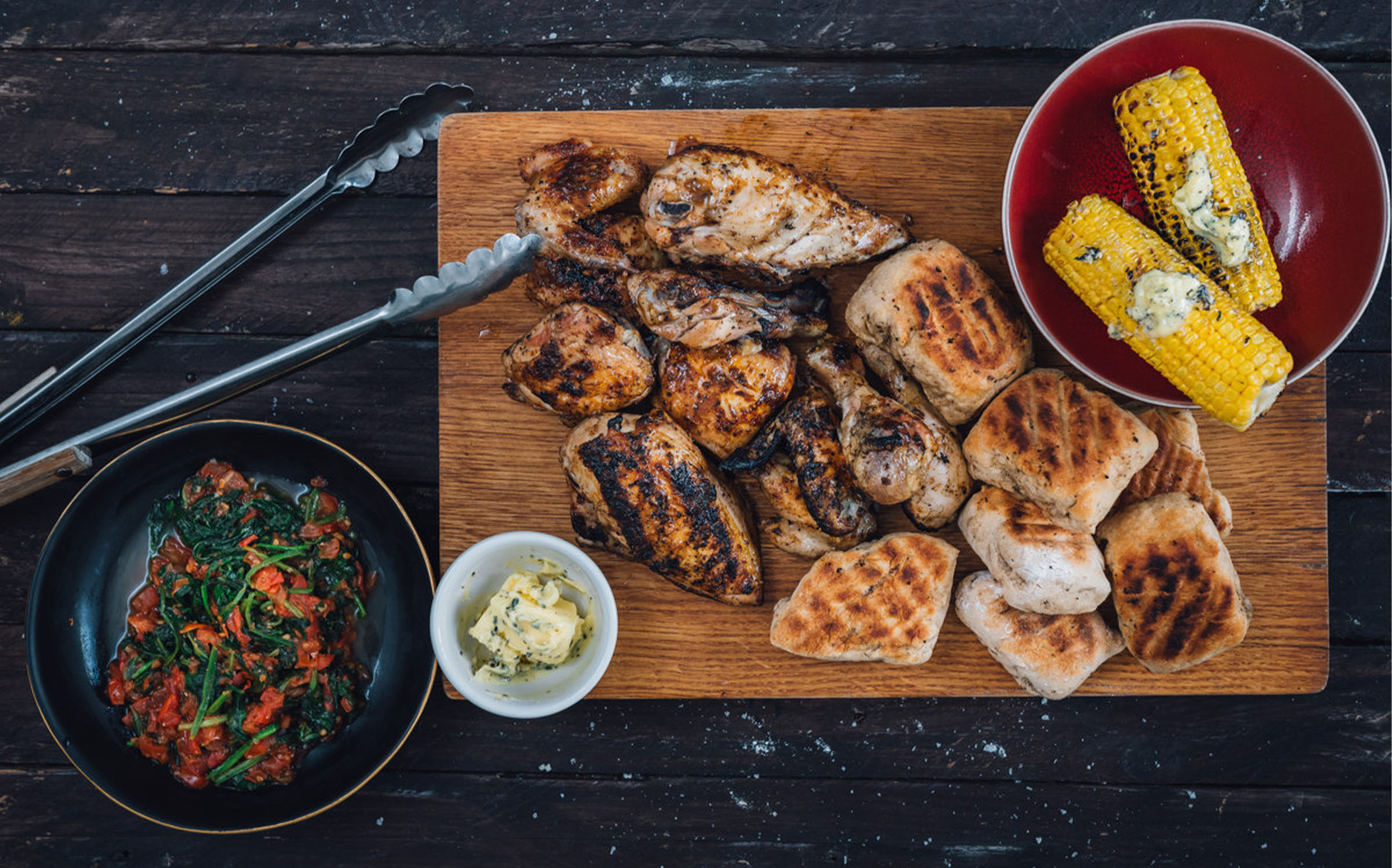 Prep time
15min

Cook time
45min

Serves
—
Impress  your guests with this mouth-watering portuguese chicken grilled on the braai, served with roosterkoek, spinach and corn.
Ingredients:
1 chicken braai pack
1 lemon
3 Tbsp Portuguese spice mix
6 corn on the cob
4 Tbsp butter
2 sprigs of thyme
2 crushed garlic cloves, crushed
salt and pepper
Spinach ingredients:
2 Tbsp olive oil
3 garlic cloves, sliced
1 ripe tomato, diced
1 tsp cayenne pepper
500g fresh baby spinach
salt and pepper
Roosterkoek ingredients:
1kg white bread flour
7ml sugar
2ml salt
10g instant yeast
500ml lukewarm water
15ml melted butter
200g butter to serve
Method:
Season the chicken and marinate for a few hours.
Roast in the oven for 45 minutes. Finish off on the braai to char the chicken and infuse the meat with delicious, smoky flavour.
Parboil the corn, char on the grill, and toss in garlic-and-thyme butter.
Serve with your braai chicken.
Spinach
Method:
In a medium-sized pan, heat the olive oil and add the garlic. Simmer on low for a few minutes, stirring until the garlic is translucent. This takes about 2 minutes.
Add the diced tomato and sauté for a few minutes until soft.
Toss in the baby spinach and cover with a lid. Simmer for a few minutes. Remove the cover and stir. The spinach is done as soon as it wilts.
Taste, and season with salt and pepper.
Turn off the heat and transfer to a serving plate.
Roosterkoek
Method:
Combine the flour, sugar and salt. Sprinkle the instant yeast on top.
Add just enough lukewarm water to form a stiff dough.
Knead the dough until it's elastic and no longer sticks to your hands.
Brush the dough with melted butter and cover.
Leave to rise in a warm place until double the size.
Knead down and shape into small balls.
Flatten the balls slightly and sprinkle with flour.
Cook over a slow fire until done.