Wild mushroom and thyme stuffed chicken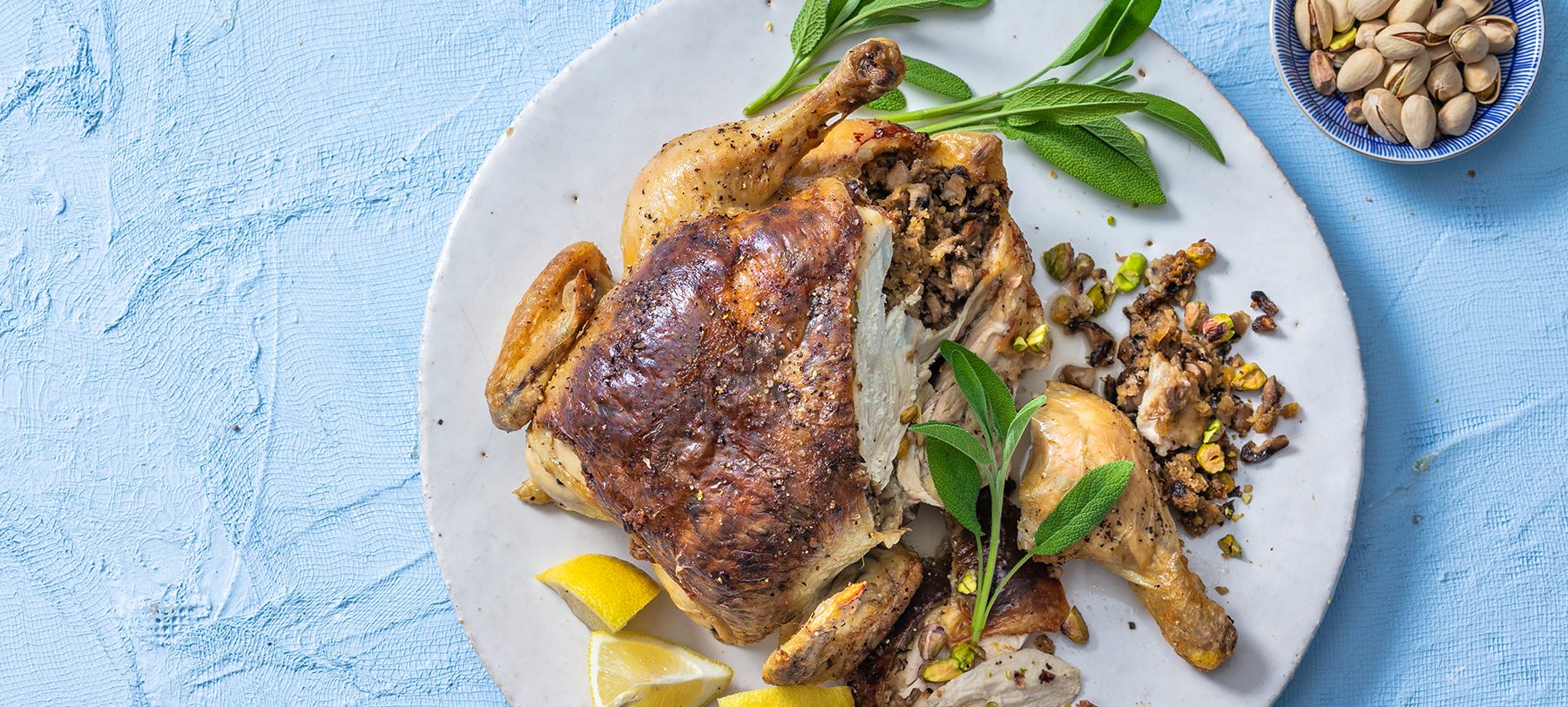 Prep time
30min

Cook time
75min

Serves
4
Try stuffing a chicken with wild mushroom and thyme – you'll have a dish that's packed with umami flavour.
Ingredients:
30ml olive oil
1 onion, peeled and finely chopped
4 garlic cloves, crushed
500g mixed wild mushrooms, roughly chopped
a bunch of fresh thyme
1 lemon
250ml fresh breadcrumbs
100g pistachios
1 egg, beaten
50g soft butter
salt and black pepper
Method:
Preheat the oven to 220°C.
Heat half of the olive oil in a large frying pan on medium heat.
Add the onion and garlic and cook for about 5 minutes until soft. Add the mushrooms and half of the thyme leaves. Turn up the heat and fry for another 5-10 minutes until the mushrooms go slightly crispy.
Remove the mushrooms from the heat, add the zest of the lemon and a squeeze of lemon juice, and season well. Set aside to cool.
Once the mushrooms have cooled, add the breadcrumbs, pistachio nuts, beaten egg and soft butter to make the stuffing. Season.
Carefully push your fingers between the meat and the skin of the chicken to gently create a pocket for the stuffing. Push a quarter of the stuffing into this pocket. Insert the remaining thyme sprigs into the chicken cavity, followed by the rest of the stuffing.
Drizzle the chicken with the rest of the olive oil and season with salt and pepper.
Place the chicken on a baking tray and place in the preheated oven. Once the chicken is in the oven, turn the heat down to 200°C.
Cook the chicken for about 60 minutes until golden brown and cooked. When pierced, the juices must run clear.
Remove from the oven and leave the chicken to rest for 15 minutes before serving with herbed barley risotto.