Peri-peri chicken drumsticks
with a side of steakhouse-style chips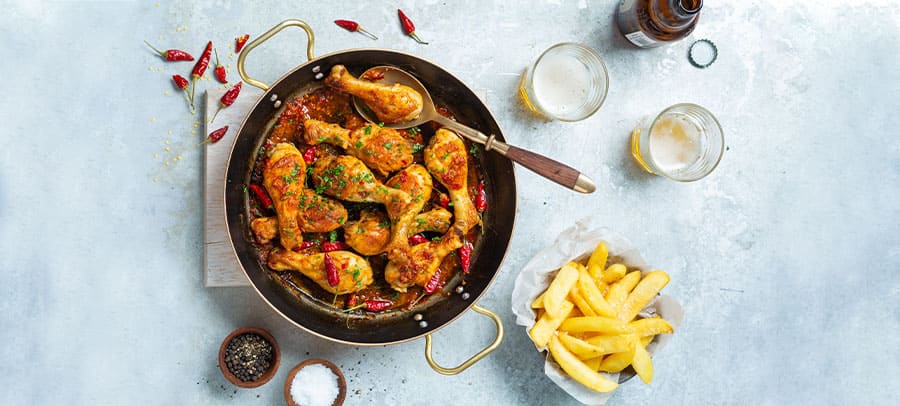 Prep time
10min

Cook time
40min

Serves
4
Add homemade peri-peri sauce to drumsticks for a delicious dinner that takes less than an hour to prepare.
Ingredients:
8-10 chicken drumsticks
3-4 large potatoes
Peri-peri sauce
3-6 hot red chillies, deseeded and finely chopped
6 tbsp olive oil
4 tbsp white-wine vinegar
4 cloves garlic, crushed
2 tbsp tomato purée
1 cup water
Method:
Preheat oven to 200°C.
To make the peri-peri sauce, put the chillies, olive oil, white-wine vinegar, garlic, tomato purée and water into a pot and bring to the boil. Reduce the heat and simmer until the sauce thickens.
Crisp the skin of drumsticks in a pan over the stove. Place the drumsticks into an oven dish and cover with the piri-piri sauce. Cook in the oven for about 30 to 45 minutes until sticky.
Cut the potatoes along the length into 1cm-thick slices. Then cut 2cm-wide strips along the length to form a rectangular-style chip. Fry the chips in oil until golden brown and serve with the chicken drumsticks.